What Do You Need in Addition to Home Security Cameras?
In its simplest form, an alarm system for residential properties tells homeowners or tenants when someone enters their home via door/window sensors that they can confirm the event on their security cameras. While door/window sensors and home security cameras do add some protection to a property, you can enhance the functionality and level of protection of security systems in Toronto by introducing additional sensors that alert you and your home monitoring company to other signs of trouble at home. As a result, you will get a timely response based on the sensor that's triggered.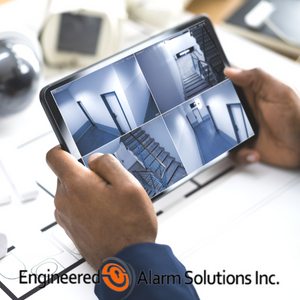 Here are some sensors you can get with Engineered Alarm Solutions for a comprehensive security system in Toronto.
Door Sensors: Door sensors are a basic security measure. They are typically installed on the main floor and basement at exterior-entry points and trigger an alarm when a door is opened at night or while residents are away while the alarm system is armed.
Window Sensors: Window sensors can be installed on every openable home window. They are programmed to detect when windows are opened while residents are away or asleep while the system is armed in stay or away mode. These sensors help to protect all your home's points of entry, stopping or alerting monitoring stations to burglars attempting to break in through the window.
Motion Detectors: Motion detecting sensors act as redundancy to door sensors for more reliable protection. Motion detectors sense movement and are recommended to be installed at least one-per floor, especially near primary break-in points.
Flood Detection Systems: When you're away on a trip or just out for the day, your home is still vulnerable to damage from natural elements or even mechanical failure. Flood sensors will quickly alert you to sump pump failures and flooding from appliances regardless of if your system is armed or disarmed. If you set up home automation for your security system, your flood detection can automatically trigger the main shut-off valve for your home's water supply to minimize the water damage.
Smoke/Fire/Carbon Monoxide Detection System: The mandated smoke detectors and carbon monoxide (CO) monitors in homes are local systems designed to wake occupants up in the event of a fire/CO to facilitate a fast and quick evacuation. While this is an important feature, you can better protect your property and pets with a sensor that communicates with a monitoring station, so emergency responders can be dispatched as early as possible. Carbon monoxide monitors should be installed where people sleep or on any floor where there is combustion - furnace, fireplace, a gas range, etc.
To learn which sensors and alarms are best for your property, contact the security system experts in Toronto -- Engineered Alarm Solutions.