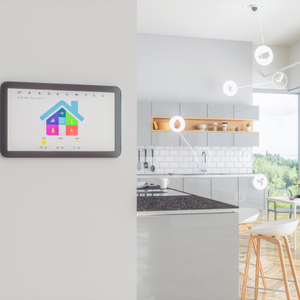 A home automation system can go a long way towards making your life easier and more comfortable. Imagine having your lights, appliances, heater and air conditioner, security alarm, curtains and other pieces of home equipment all tied into an automatic system, working together to your program to satisfy your own personal needs. It's also a great energy saving alternative, automatically adjusting the temperature of your home and the lighting; you'll never have to worry about forgetting to turn out a light or coming home to a sweltering or freezing room again, and it's more efficient than simply leaving the air conditioning or heating on all day while you're away.
Our home automation systems operate through the central alarm panel. This way, the communication between each individual device—the lights, thermostat, deadbolts and so on—and the panel itself is very secure. You can control all of your devices remotely. Cheaper home automation systems rely on WiFi, and are therefore not reliable. Our systems are integrated, and will work even if your internet goes down.
We have some of the most technologically advanced and up-to-date solutions available, all customizable to meet any needs and budget requirements you have.
With a home automation system, you can adjust the temperature of your home, or check your security camera feeds or turn off that light you forgot, all from the convenience of your smartphone or tablet. Monitor your energy usage to save on your monthly electric bill. Keep an eye on your loved ones with video monitoring. Lock and unlock your doors remotely to control who has access to your home. Deter burglars by remotely activating your lights, making them believe you're at home. Home automation can do all of these things and more.
Our system can also monitor the location of you and your family, using the GPS function of your smartphone. Using this Geofence information, your system can automatically adjust certain preset parameters when you're about to come home—turning certain lights on, adjusting the temperature, and so forth. It can do the same when you leave the home, automatically adjusting setting to save energy. It can alert you if you didn't arm the alarm or if a window was left open, or even shut off the water valve when you're away. The options are nearly limitless.
If you're looking for a home automation system, Engineered Alarm Systems is your top choice in Toronto and the Greater Toronto Area. We're always happy to talk to you, whether it's to provide a free quote or to answer any questions or concerns you may have about our products or services. Call us today at (416) 697-7329 to see what we can do for you.