Simplify control over your property with home automation systems.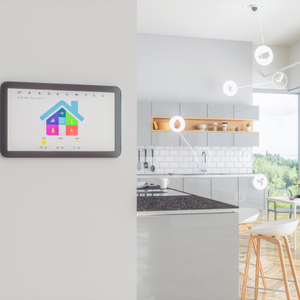 Peace of mind is important for homeowners who have to spend their days away from the house. Home automation systems allow property owners with busy schedules and lifestyles to forgo manual settings without sacrificing access, control, and security. Advanced home automation systems with Engineered Alarm Systems can be integrated with your home alarm systems and security camera installations in Toronto for optimal and robust performance.
Learn More About Home Automation Systems.
Features of Home Automation Systems
Security System Automation: When you're away, get remote access to your security system in Toronto from anywhere in your world. Set automatic timers that arm and disarm your alarm, trigger your deadlock, and open or close your garage doors all based on your schedule. Remote access allows you to communicate through doorbell intercoms and view your security cameras on-demand from your smart device.
Flood Detection: When leaks or flooding occurs while you're away, automatic flood detection sensors notifying the alarm monitoring stations and your mobile device while also shutting off the main water line immediately.
Automatic Lighting: Create personalized rules that schedule when your lights are automatically turned on or off. You can also set up lights to be powered on when alarms are triggered to deter criminals especially when you're away.
Curtain Control: Schedule when your curtains and share open and closed based on a custom schedule or alarm events (e.g. when your alarm is triggered exposing criminals and deterring burglars) to appear as if you're home.
Thermostat Control: Save energy when you're not at home and keep your pipes from freezing when you're on vacation with seamless automated thermostat control that adjusts your home temperatures automatically based on the time of day or your location as you get closer to home using geofence technology.
Home Theater Entertainment: Connect your audio-visual systems to your central control panel and play music, TV shows, and movies from your phone on any screen in your home. Parents can control screen time with greater ease.
A home automation system can go a long way towards making your life easier and more comfortable. Imagine having your lights, appliances, heater and air conditioner, security alarm, curtains and other pieces of home equipment all tied into an automatic system, working together to your program to satisfy your own personal needs. It's also a great energy saving alternative, automatically adjusting the temperature of your home and the lighting; you'll never have to worry about forgetting to turn out a light or coming home to a sweltering or freezing room again, and it's more efficient than simply leaving the air conditioning or heating on all day while you're away.
Why Choose Home Alarm Systems with Engineered Alarm Solutions
At Engineered Alarm Solutions our home automation systems are connected through the central alarm panel, facilitating communication between each device and component of your security system from lights and home alarm systems to deadbolts, thermostats, and more. The advanced control panel is secure and integrated, offering protection even when the WiFi connection goes down. We have some of the most technologically advanced and up-to-date solutions available, all customizable to meet any needs and budget requirements you have.If you're interested in enhancing your home security system in Toronto, we have budget-friendly and customizable options to suit your needs. To learn more about our home automation systems in Toronto, talk to the Engineered Alarm Solution team.