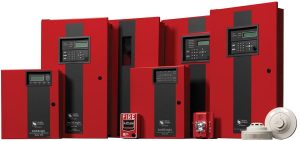 There's nothing more devastating to your business than the threat of fire. In the worst case scenario, it can end lives or irreparably damage your property, and even in the best case, it can delay and demolish your profitability in mere moments. A commercial fire alarm system can help protect you, your company and, most importantly, your employees from the potential dangers of fire.
Engineered Alarm Solution's fire alarm systems can be custom designed to fit the unique needs and requirements of your commercial property or business. They meet all standards and codes, with the latest and most up-to-date technology available on the market. Our fire alarm solutions can be tailored to a wide range of situations, all in order to meet the unique demands of your specific situation.
Our sophisticated detection systems alert you to the specific location of the fire, and lets you quickly, effectively and efficiently pinpoint potential danger points. We also design and install sprinkler systems to serve as your first line of defense against fire damage. When integrated with a complete commercial security solution, it provides a level of protection of life and property which is simply second to none.
We also provide annual fire inspections of emergency lights, fire extinguishers, sprinkler systems, pull stations, fire hoses and smoke detectors, meeting all legal standards and requirements.
We've been working with businesses in the Toronto area for years now, and our expert security sepcialists fully understand the needs of the community. They'll work with you, identifying your specific risk points and danger areas, and design the system that best protects your specific situation. Our alarm systems can all be remotely monitored, ensuring that you and your business will be fully protected 24 hours a day, seven days a week.
We're your top choice for commercial fire alarm systems in the Toronto area. We're more than happy to answer any questions or concerns you may have about any of our smoke detectors, temperature monitoring sensors, or any other product or service we offer. Contact us today at (416) 697-7329, and learn how our fire alarm systems can help bring peace of mind to your business.