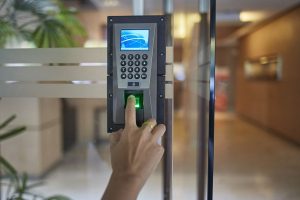 With our office access control systems, you can fully monitor all the people that move in and out of your facility. We offer a wide variety of technological solutions, such as proximity cards, keypads and biometric recognition systems. All of these can be installed to allow authorized personnel—and only authorized personnel—to access restricted areas in your organization.
By controlling who can go where and when people can access different areas, you can enhance your property's level of protection and help secure your sensitive information. It can also provide a safer working environment for you and your employees by preventing unauthorized access. It also keeps records of your employees' entrance and exit habits, which can be beneficial for payroll verification purposes.
Our expert security team here at Engineered Alarm Solutions can help you identify the most vulnerable areas of your facility, helping you select and then install the proper access control solution to meet your unique needs and situation. We'll help you enhance the security of your premises with our top-of-the-line technology.
Biometric authentication allows a high level of authentication for your most secure areas. Proximity cards allow for easy, convenient, contactless secure access. Keypads allow each room to have a unique code required for entry, allowing a simple and quick way of securing areas from unauthorized visitors. No matter what your situation or environment, our expert security team can help you find the solution that's best for you.
We're your top choice for office access control systems in Toronto and the Greater Toronto area. Our trained experts are standing by, more than happy to answer any questions you may have about any aspect of our products and services, from installation through repair and upkeep. Contact us today at (416) 697-7329, and we'll help you secure your business from unauthorized entry, giving you the peace of mind needed to run your office effectively.