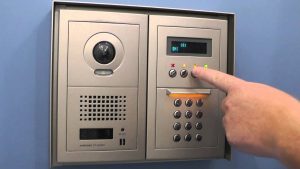 Installing a commercial intercom system is a great step in assuring that your access control system is safe and effective. Engineered Alarm Solutions has a wide range of intercom systems, allowing you to see, hear and speak to visitors before they ever enter your property. You can enjoy the convenience of a remote door release, choosing who you let in to your commercial property without having to move from your desk.
We offer a wide variety of intercom systems to fit your specific needs. We have everything from simple audio-only intercom systems up to more complex video and audio systems for buzzing someone into your building. No matter the size or scope of your business, Engineered Alarm Solutions has a set of options that will meet both the unique situation your business is in and your budgetary limitations.
An intercom system can help improve the efficiency of your business' communications, as well. You can communicate across buildings at the push of a button, allowing for quick communication all across your property. It allows you to monitor and control all your entryways, allowing for a higher level of security and greater peace of mind.
Our security sepcialists and in-house engineers will help you every step of the way, from the selection of the intercom system that's right for your business, though installation and any needed repairs. We'll evaluate your facility, pointing out your specific needs and working with you to figure out the best options for your business, whether it's a single-story facility or a multiple-story complex. We'll make sure you get exactly what you need.
We're your top choice for commercial intercom systems in the Greater Toronto area. We're more than happy to answer any questions or concerns you may have about our systems, from our simple audio-only systems all the way through our most advanced visual models. Contact us today at (416) 697-7329, and we'll start working with you to get the intercom system that will help your business thrive.