Personal Emergency Response Systems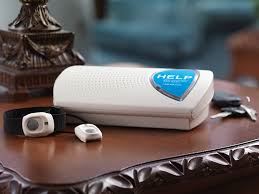 A personal emergency response system, or PERS, lets you call for help from a push of a button. If you or your loved ones are at high medical risk, be it for a heart attack or a fall, then a PERS may be a much-needed piece of medical technology for you.
A PERS consists of a transmitter than you wear, usually on a wristband or around your neck. When you push the transmitter, or when the fall-sensor is activated, it sends a signal to your phone and connects you with our monitoring station using two-way voice communication. Our expert staff will evaluate the situation, determining whether to contact a designated friend or family member or to go ahead and call for an ambulance or other emergency services. This monitoring device allows you to talk with the monitoring station, even if you can't move from where you've fallen.
A PERS allows people to live on their own longer. It's the best companion for living an active, healthy life, and for worry-free aging. A fall or heart attack when you're living on your own can be devastating; it can go from a significant but recoverable problem with prompt treatment to something potentially much more dangerous if no one is aware of the situation. By allowing an older person to contact help when they need it, it helps provide security and a sense of peace of mind, knowing that they can get care at critical moments.
Our PERS has GPS tracking functionality as well, protecting people no matter where they are when an emergency happens.
Engineered Alarm Systems' monitoring service will respond quickly and effectively in cases of emergency, contacting the right people when necessary and ensuring quick and accurate responses at these critical times. Our highly trained staff is always available, 24/7, at the push of a button, so you can rest easy.
If you're interested in a personal emergency response system, Engineered Alarm Systems is your top choice in Toronto and the Greater Toronto area. Our representatives are standing by, ready to give you a free quote or to answer any questions or concerns you may have about or system or monitoring service.
Call us today at (416) 697-7329