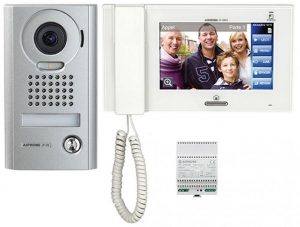 A home intercom system can allow you to see, hear and speak to your visitors before they enter your home. When coupled with a remote door release option, you get an entirely integrated system, allowing you to identify visitors and remotely open the door, all while sitting comfortably on your couch. Engineered Alarm Solutions supplies and installs a wide variety of high-quality video door intercom systems to satisfy all your security needs.
No matter what level of communication you're looking for, we have a system that can meet your needs and budget. From a simple audio-only system to the latest and most technologically advanced video systems, we have the technology that will help you meet all of your security desires.
A home intercom will help you communicate more conveniently around your home. You can set one up to message your kids from across your house, or to answer your front door from your smartphone. You can even see and talk with your visitor when you're not home via the smartphone link, fooling potential burglars into thinking your house is occupied. They're inexpensive, as well. Engineered Alarm Solutions offers a wide variety of intercoms to fit different budgets and needs. We'll handle installation and repair, as well—you can let our knowledgable security sepcialists handle the entire project from start to finish.
If your mental picture of an intercom is tinny-sounding audio, with clunky buttons on speakers cut into the wall, you'll be pleasantly surprised by the range of home intercoms available. Audio comes in crystal-clear, and you can get clear, high-definition video as well. It's convenient, and it's safer than using a peephole or door chain to see who's at your front door. There are dozens of potential benefits to home intercoms.
If you're looking for a home intercom system, we're your top choice in Toronto and the Greater Toronto Area. Our representatives are more than happy to give you a free quote or to answer any questions or concerns you may have about our systems, from our simple audio-only systems all the way through our most advanced visual models. Contact us today at (416) 697-7329!