Elevate Your Security with Surveillance
24/7 Monitoring | Immediate Alert Response | Improved Response Times
Get more peace of mind with alarm monitoring.
Protect your property with confidence. Engineered Alarm Solutions Inc. partners with Lanvac to give commercial and residential property owners 24/7 surveillance.
Do You Need a Monitoring Station?
While local residential and commercial alarm systems in Toronto only alert people in the vicinity of potential situations on your property, monitored security systems are watched around the clock.
By monitoring your alarms, you can enhance your visibility and connection to your property, better protecting your property, valuables, and loved ones. With faster response times and immediate visibility, you can dispatch emergency responses, better deter criminal activity, and get professional assistance any time, day or night.
Monitoring stations enable redundancy in your residential or commercial security systems, allowing you to breathe easily at night or leave the country without worrying about break-ins, fires, floods, or other disasters. With reliable monitoring, robust residential or commercial security cameras, and effective alarm systems in Toronto, your property will be a fortress.
About Lanvac Security Monitoring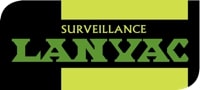 For over 37 years, Lanvac has been a leader in Canadian security monitoring services. As a trusted Engineered Alarm Solutions Inc. partner, Lanvac elevates the effectiveness of residential and commercial security systems in Toronto and GTA by providing 24/7 monitoring.
Seamless Integration for Meticulous Monitoring
With six state-of-the-art monitoring stations across Canada, Lanvac delivers reliable monitoring with alerts seamlessly sent to all stations simultaneously. With information shared instantly between all 6 stations, you can be confident that there will always be a response to alarms on your property, even in the rare case that one station goes offline. No emergency manual transfers, no switching, and no delays.
Your property and loved ones are in safe hands.
What Does Your Monitoring Station Do?
Monitoring stations play a crucial role in security systems by overseeing and responding to security events. These central facilities receive signals from your residential and commercial alarm systems. Trained operators promptly respond to alarms and assess the situation via security cameras (video monitoring is an optional package) to verify their authenticity and initiate the correct response. In the case of an emergency, our monitoring stations will quickly dispatch local authorities or security and contact the property owners.
If the security system allows for it, your team at the monitoring station can communicate directly through high-level security cameras and built-in speakers with the suspect, making them aware that they are being watched and recorded in real-time; this will also inform them that emergency services are on their way to increase the chances of deterring crime. With meticulous record-keeping and technical support, our monitoring stations ensure the safety and security of residential and commercial properties, providing constant protection.
Contact the specialists at Engineered Alarm Solutions to learn more about how a robust security system in Toronto and Great Toronto Area and Lanvac monitoring stations fortify your property and protect your loved ones.
Why Choose Lanvac & Monitored Security Systems
When you choose to monitor your residential or commercial security systems with Lanvac and Engineered Alarm Solutions, you're choosing:
Reliability: With 6 stations operating 24/7, Lanvac alarm monitoring is dependable, so no matter where you are in the world, you can be sure that your home, business, or other property is being watched by someone you trust.
Experience: With over 37 years in the security industry, Lanvac and Engineered Alarm Solutions Inc. are equipped with the technology and insight into burglar behavior to enable the most effective security responses.
Professional Support: Trained professionals responding to alerts from your alarm systems, so you can always count on the best tactics being employed to mitigate dangerous or criminal situations.
Multi-Layered Security: Monitoring stations add redundancy to your security system beyond just smartphone monitoring or local alarms; Lanvac means a large team dispersed across the country has an eye on your property.
Peace of Mind: Minimize stress about the safety and security of your property when you trust the experienced security professionals at Engineered Alarm Solutions Inc. and Lanvac.
Talk to our team directly to learn more about your security system and monitoring options.