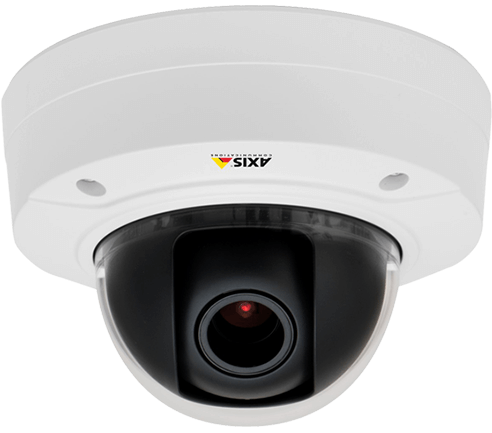 Look around, and you'll find security cameras nearly everywhere. You'll see them when you're walking down the street or at an ATM. Nearly every store you enter will have one, too. But these aren't just for businesses anymore. Engineered Alarm Solutions can bring home security cameras into your life. We'll help you have complete control of what happens in and around your property, even when you're away.
Engineered Alarm Solutions installs all types of security cameras, depending on what will best help your specific situation. From wired to wireless, IP to analogue, we have the cameras that best fit your home security needs.
Our state-of-the-art digital video surveillance will provide sharp images day or night, without the loss of quality you'd find in older, analog cameras. The latest security digital CCTV technology allows you to quickly search through your footage, looking for specific incidents simply by entering a date and timestamp without needless rewinding and fast-forwarding. It can make combing through footage from multiple cameras exceptionally easy, even from your smartphone or computer.
Security Cameras Offer a Variety of Features to Help You Protect Your Home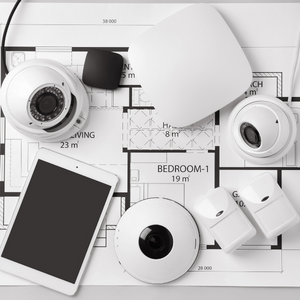 Engineered Alarm Solutions specializes in the installation of indoor cameras with microphones. This allows you to hear your loved ones when they are under the supervision of a caregiver, allowing you to know what's going on in your home, even when you can't be there. Whether you're at work, on holiday or simply in another room, you can monitor your home and loved ones any time, from your smart phone, tablet or computer.
Our security experts will help you select the cameras that are best for your specific situation and budget. Whether you need a complete set of multiple cameras for each room of your house and multiple entryways, or just a simple camera to monitor your front door, we can find a solution that best meets your unique needs.
We specialize in installing wired cameras without showing any unsightly exposed wires. Even if your house and basement are already finished, our skilled security sepcialists ensure that you get the high-performance of wired cameras without ruining the look of your home.
Why Homeowners Need Security Cameras in Toronto
Security cameras in Toronto have come a long way over the past few years. They used to be big and bulky and were used primarily by large corporations and businesses. Nowadays, they are smaller, sleeker, and easier to install.
Home security cameras are an excellent investment for any Toronto homeowner. Not only do they provide the first line of defense against intruders looking to rob your home or office, but they also help police track down criminals when they get past the front door. According to a 2017 report by the Bureau of Justice Statistics, burglars who enter through an open or unlocked door or window are more likely to enter a home and steal items when no one is home than burglars who gain entry when someone is home.
In Toronto, home security cameras are one of the best ways to protect your home from burglary and theft by providing a second line of defense before it comes to something as drastic as an actual break-in.
Benefits Of a Home Security Camera Installation
In 2022, home security cameras are a must for any homeowner looking for security and peace of mind. There are many benefits to installing a security camera in your home, including:
24 hour live monitoring: When a potential threat is identified, you will receive an alert on your smartphone, tablet, or computer. You can then call the police, contact a security company like Engineered Alarm Solutions or take other steps to ensure you are safe.

Security cameras can reduce insurance premiums: Insurance companies like Progressive and State Farm have been doling out discounts to clients who have state-of-the-art surveillance systems in their homes. This means that while you may be shelling out a few thousand bucks to buy and install a security camera system, you will receive a discount on your homeowner's insurance.

Security cameras deter crime: Security cameras deter criminals from entering your home. Many burglars tend to avoid homes equipped with security cameras because they know they will be caught red-handed.

Protect your valuables: Sensitive valuables are less likely to be stolen. If you have valuables that you want to protect from people who break in, installing a security camera around that area is best.
Professional Security Camera Installation & Monitoring From Engineered Alarm Solutions
Security Camera Systems are an essential part of protecting your home and loved ones.
A security camera system is one of the most effective ways to provide peace of mind for your family. We offer a wide variety of high-quality CCTV Security Cameras, which are rated for both indoor and outdoor use.
Our security cameras are available, either wired or wireless. We also provide access control systems (keypads, card readers, and combination locks) that can be linked to your security cameras so that you can have a real-time view of what is going on at your business or home while you are away.
Our team is qualified and experienced to install the best professional Grade Security Cameras and Surveillance Systems that you need. We have provided security camera system solutions for private residences, commercial and industrial buildings, retail spaces, banks, warehouses, hospitals, and more.
Why Choose Engineered Alarm Solutions
Our professional installers will install your security cameras, smoke detectors, and fire alarm system to ensure that your home is a secure place for you and your family.
When we install your security cameras:
We use the best equipment to ensure that we capture all activity in your home.
You get best in class security camera surveillance systems from Engineered Alarm Solutions.
Enjoy peace of mind and feel safe and secure in your home.
We are your top choice for home security cameras in Toronto and the Greater Toronto Area. Whether you are looking for a new home security system or need monitoring service at your current location, we are here for you.
Wired vs. Wireless Home Security Cameras
Surveillance cameras can be broken down into two types: wireless cameras and wired cameras. There are pros and cons to both types.
Wireless home security cameras
Wireless cameras have become more prevalent in recent years because they do not require a cable infrastructure like wired cameras do. This is because wireless cameras work by transmitting their image wirelessly to your DVR or NVR. This is convenient because you do not need to hire a contractor to run any cables from the camera through your walls and to your DVR or NVR. However, there are some drawbacks to using wireless cameras. The main drawback of using wireless surveillance cameras is that you need a reliable internet connection for these security cameras to work correctly. The second drawback is that their signals are susceptible to being intercepted or jammed by criminals. The final drawback is wireless security cameras use WiFi technology to transmit images to a central office. This transmission can lead to poor image quality because the picture needs to be compressed for it to make it through the air. The compression is not as good as an uncompressed picture, so you may see grainy or blurry images, or the images may even appear black and white. Security cameras that use wired technology do not have these problems because they do not need to compress the image. They just send an image from the camera to a recording device.
Wired home security cameras in Toronto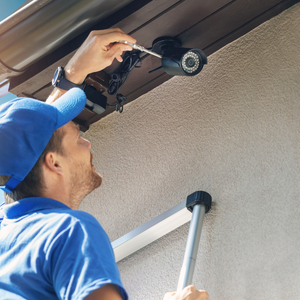 Wired security cameras are the better choice for homeowners. Wired security cameras are more reliable, more secure, and have a back up in case of a power outage. The footage is also usually clearer than wireless security camera footage.
Although wireless security cameras are the more popular choice, they have been known to be easily hacked and viewed in real-time on the internet by people who are not on your property. By going wired, you will eliminate the possibility of hacking while still providing you access to your camera from your smartphone. Just like wireless security cameras, you can watch your camera at a moment's notice by simply picking up the phone. Overall, installing a wired security camera system will provide you with greater peace of mind.
Security Camera Installation Toronto
We install and monitor fire alarms, burglar alarms, intercoms, voice & data networks.
Let us help you find the right product for you. With our knowledge of the products available on the market, we will determine which product works best for you.
Our experts are standing by, waiting to give you a free quote or to answer any questions or concerns you have about any of our products and services. Call us today at (416) 697-7329.