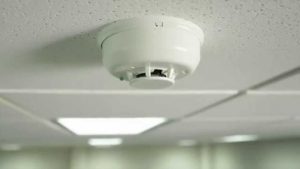 Commercial smoke detectors aren't just a useful part of a commercial security system; they can literally save your life. They detect airborne smoke and emit a signal to your fire alarm control panel, triggering notifications to help warn people of possible fire-related dangers. They are one of the single most important features of any building; they can detect dangers before you can, or alert the fire department when you're not around. Engineered Alarm Solutions' smoke detectors can be joined with all of our commercial security products, offering a complete set of protection for you and your business.
Your business runs a greater risk of fire than your home. You generally have more people coming in and out, each of them bringing with them risk factors. Installing a high-quality smoke detector is the best way to protect yourself from the type of damage that fires can produce, both to your property and, more importantly, to your employees. You want to make sure that everything is protected, and a smoke detector and fire alarm system is one of the wisest investments you can make.
Our experienced security sepcialists will help you determine precisely the sort of system that fits best with your unique needs and your budget requirements. A commercial environment sometimes has smoke that's simply part of normal operating procedures, in a commercial kitchen or factory machinery. In these cases, we also install strategically located heat detectors to help provide an accurate reading in the environment they're supposed to serve in. Our professionals can help you select the one that's best for your business.
We're your top choice for commercial smoke detectors in the Greater Toronto area. Our representatives are standing by, waiting to hear from you and answer any questions you may have. Contact us today at (416) 697-7329, and start down the road to installing new smoke detectors. It's an investment you'll never regret.