Tips for Buying a Security System in Toronto
Originally posted on 27 April 2021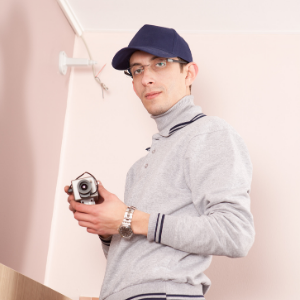 Feeling secure in your home or office is an essential part of personal safety and productivity. Unfortunately, there are so many different alarm and retail security systems in Toronto it is hard to know where to begin. When it comes to selecting a security system, how do you know which is the right one? Here we have created a helpful guide for security system installation and choosing the right security system for your home or business.
Understanding Security Systems
Just like your internet or furniture, there are lots of options for security systems in Toronto. The first step to choosing a security system is understanding the different elements available to you and your business.
When it comes to security systems, there are several fundamental elements. Sensors are placed throughout your home or office to detect a threat.
Cameras can also facilitate threat detection and improve your ability to monitor your home or office. The goal of your security system will be to detect a threat or potential break-in and alert you so you can take action before it's too late.
What Kind of Security Equipment is Important to You?
Whether you are looking for security system installation for a home or office will impact the type of system you end up purchasing. There are options for wireless or wired alarm systems, a system that directly contacts authorities or one that only alerts you, or even plans to detect the difference between a pet and a threat. Are you interested in a basic security system that just alerts you if a door or window is breached? Perhaps you are looking for state-of-the-art safety that allows you to monitor potential threats remotely? There are plenty of ways to customize your security system to include the features you need to feel safe in your home or business.
What is Your Budget?
Your budget will impact the type of security system you can install in your home or business. If you have a large budget, the options are nearly endless. With a more modest budget, you can work directly with the technicians at Engineered Alarm Solutions Inc. to determine the best system to protect your home without breaking the bank.
Security System Features We Recommend
When it comes to security systems in Toronto, we recommend a system that integrates sensors and cameras to provide complete protection of your building. Your system should also directly link to emergency services to protect your home at all times. You can also integrate a medical system, flood detection system, or even fire alarm system into your broader security system.
At Engineered Alarm Solutions Inc., we offer state-of-the-art security system installation for homes and businesses in the Greater Toronto Area. Whether you are looking for a basic alarm system to prevent break-ins or an advanced and remotely operable system, we can help you find the right level of security for your building. Contact the expert team at Engineered Alarms today at 416-697-7329 to learn more about the types of available systems or to get started with the installation process.