Why You Need Home Security Cameras and A Monitored Alarm System At Christmas
Originally posted on 18 November 2021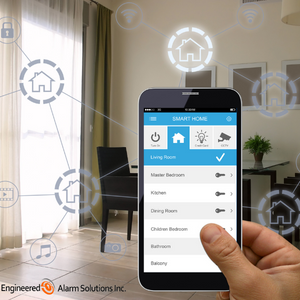 With the advent of the holiday season, you're probably starting to think about how you can make your home more secure during this festive time. The prospect of travel plans, family gatherings, extra visitors, lots of cooking, and all that wrapping paper is enough to put anyone on edge. While you can't wish away all the holiday stress, installing a monitored alarm system with home security cameras can take care of your security concerns. A Smart home security system can actually make the holiday season less stressful and more enjoyable. Here's why a monitored alarm system and home security cameras should be on your Christmas Wishlist!
Keep Your Home Secure With A Monitored Home Alarm System
Apart from the festivities and cheer, the holiday season also brings the threat of burglaries and break-ins. In fact, the incidents of theft and burglaries are the highest during the Holiday season. If you are concerned about the security of your home when you're not there, a monitored alarm system with hard-wired home security cameras can put your worries to rest. Apart from the visual deterrent, a 24-hr continuously monitored alarm system can effectively neutralize security threats with its guaranteed response functionality.
Not only can you view your home remotely from any smartphone, desktop, tablet or laptop, a monitored alarm system can also send an alert about any suspicious activity to local authorities. Whether you are out for a family holiday, at work, or just out shopping, you needn't worry about the safety of your home with a monitored home alarm system in place!
Benefits of Monitored Alarm Systems
Guaranteed Automatic Response: Unlike the traditional 'audible' alarms that just ring for notification, a monitored alarm system ensures a guaranteed automatic response. Depending on the set response procedure, this could be a text notification sent to you, a phone call, or an alert to the local Police control center.
Deters Burglars: Christmas is a busy time not just for you but also for burglars! Burglars usually look for easy targets like unlocked and unsecured homes. Most of them will pass over alarmed properties with home security cameras. Even if someone tries to break in, a monitored alarm system can immediately alert and contact the local police.
Protects Your Family: Did you know that alarm systems protect your family from not just intruders but also other dangers like fire, flooding, and carbon monoxide? These alarms will alert you about any smoke, fire, or carbon monoxide hazard so that you can safely evacuate your family.
Lower Insurance Premiums: Home insurance companies typically offer lower insurance premiums for homes secured by monitoring alarm systems and security cameras.
Peace of Mind: With protection from theft, intrusion, and other calamities like fire or smoke, monitored alarm systems provide much-coveted peace of mind. Incorporating security cameras and other features like motion sensors and video camera doorbells add extra protection and reassurance.
Features to Consider
While the main feature of a monitored alarm system is an automatic alert in case of an intrusion or fire, you can also consider the following features:
Motion Light Sensors: These sensors shine a light when they detect motion and are helpful to deter intruders when you are away from home. However, motion sensors may not be suitable for homes with certain pets like an outdoor cat. Sensors can be activated when it enters or exits the house.
Security Cameras: Install wired security cameras at the entrance, backyard, or other areas to record security breaches.
Smart Locks: You can secure your door digitally with smart digitized locks that need access codes for opening. During the holiday season, guests can be given temporary codes for access, thus saving you the hassle of locking-unlocking doors. These locks can also have smartphone-enabled controls for remote operation.
Video Camera Doorbells/Intercoms: Add another layer of protection with video surveillance at the front door.
Glass Break Detectors: Give immediate alerts whenever there is an attempt to break the glass of your home windows or doors.
Flood & Smoke Detectors: Flood detectors can be installed in washrooms, basements and laundry rooms, while smoke detectors can be added in specific locations according to need.
The Last Word
Now that you're aware of the many benefits of a monitored home alarm system, it's time you gifted yourself some peace of mind!
The Team at Engineered Alarm Solutions Inc. (EAS) wishes you a safe and joyful holiday season! Our monitored alarm systems and security cameras can keep your home safe and make your life a bit easier this Christmas. At EAS, we are committed to providing cutting-edge security solutions at affordable prices for your home and business. Rest assured of the experience, customer focus, and innovative range of our security solutions. Contact us today to experience a customized home or business security system that complements your unique security needs!