The Importance of Night Vision for Commercial Security Cameras
Originally posted on 20 September 2023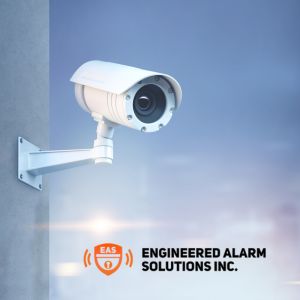 In residential properties, studies show that criminal activities such as burglaries tend to take place between noon and 7pm when occupants are out at work or commuting back to and from their homes. But in commercial properties, the opposite is true. While it's essential to have security cameras in Toronto and alarm systems around the clock, ensuring your security system is appropriately equipped during the night when it's most vulnerable is crucial. At Engineered Alarm Solutions, our team of specialists helps businesses of all sizes tailor security solutions from commercial security cameras, alarms, and other features to deliver a meaningful level of protection and peace of mind.
Read on to learn more about why night vision is vital for commercial security cameras in Toronto and nearby areas.
What Is Night Vision?
Night vision technology allows commercial security cameras to function in low-light or even no-light situations, where images of the monitored area would not be otherwise visible. Typically, there are two primary types of night vision technology: infrared (IR) illumination and thermal imaging.
Infrared (IR) Illumination: This method uses invisible infrared light. Cameras equipped with IR LEDs emit this light, which bounces off objects in the environment and returns to the camera's sensor. The camera's sensor can then convert this reflected IR light into visible images or videos, effectively "illuminating" the scene without visible light.
Thermal Imaging: Instead of relying on visible light, they detect heat emitted by objects. These cameras create images based on temperature differences, with warmer objects appearing brighter. This technology is beneficial for detecting people or objects in complete darkness since it doesn't rely on any external light sources.
At Engineered Alarm Solutions, we carry a selection of high-quality cameras for commercial security systems that offer either black-and-white night monitoring or coloured monitoring. The choice between black and white and coloured images can impact your surveillance system's effectiveness: black and white night vision offers clarity and high contrast, making it excellent for identifying crucial details. On the other hand, coloured night monitoring, resembling a vivid painting, can provide additional context, such as the colour of clothing or vehicles, which can be helpful in certain situations.
Benefits of Night Vision for Commercial Security Cameras
Night vision technology enhances the effectiveness of your security system by adding an additional layer of protection. By improving the visibility of low-light areas such as parking lots and back alleys, you can better protect your late-night workers and prevent thefts among your fleets. Whether you're viewing your property remotely through a mobile device or an alarm is being triggered at the monitoring station, night vision technology gives everyone better visibility of the situation at hand, allowing onlookers to identify intruders better while minimizing false alarms. As such, the advanced security camera feature enables a better and more effective emergency response.
Property Your Commercial Property 24/7 with Engineered Alarm Solutions
At Engineered Alarm Solutions, our team of specialists offers a range of customizable security solutions, from hardware to reliable monitoring station services, to minimize vulnerabilities and ensure your property is constantly surveilled by trained professionals. Based on your budget, concerns, and property needs, our specialists will help you choose the best security camera available.