The Difference Between Analog & IP Security Camera Installation
Originally posted on 19 January 2023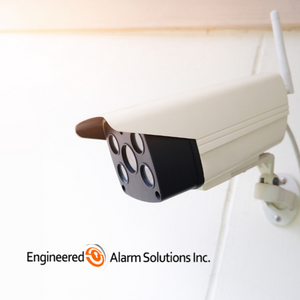 Searching for commercial or home security cameras can be complicated. Every aspect of your security system should support ease of use and peace of mind, from performance and integration to security camera installation. Finding the best security cameras for your home or business can be challenging as technology evolves, and your options increase. With support from the experts at Engineered Alarm Solutions, you will find a security system tailored to your needs.
One of the first decisions you'll have to make as you explore your commercial and home security camera options is analogue or IP security cameras. To learn more about which choice is right for you, keep reading.
What Are Analogue Security Cameras?
Analogue cameras are traditional cameras commonly used by businesses and commercial property owners and record directly to the DVR (Digital Video Recorder), where the analogue signals coming from each camera are converted into digital signals, where files are compressed and stored on a hard drive. Typically, CCTV or video surveillance cameras traditionally relied on analogue commercial or home security cameras.
Analogue Security Camera Installation
If there are existing coax wires used by analogue security cameras in your property, used by previous security systems, then an upgrade to a new high-definition camera can be completed seamlessly without replacing the wired infrastructure during security camera installation.
Pros & Cons of Analogue Cameras
Compared to IP security cameras, analogue cameras offer two main benefits: lower cost and long-distance installation between the cameras and DVRs. Because the DVR can be further away from cameras, you could cover more of your building with a single DVR and hard drive. However, while the low cost means that analogue commercial and home security cameras are more budget-friendly, they are also less sophisticated than alternative technologies available at Engineered Alarm Solutions.
For analogue security cameras to function as intended, they must be connected to a power source and the DVR, which leaves the security system more susceptible to failure. If your property does not have coax wires already installed throughout, analogue security camera installation can become expensive. The communication sent to and from analogue cameras is not encrypted, making it more vulnerable to hackers and other criminals. Finally, many analogue camera models are discontinued year after year, which leaves property owners needing to upgrade the entire security system in Toronto to stay up-to-date, which can be costly, frustrating, and time-consuming.
What Are IP Security Cameras?
IP Cameras, which stands for Internet Protocol, is a more advanced technology that offers many benefits, especially when compared to analog security cameras. Recorded through NVR (Network Video Recorder). Compared to analogue cameras, IP commercial & home security cameras do not require a local recording device, only a local network connection.
IP Security Camera Installation
IP cameras easily connect through a single CAT5 OR CAT6 cable to a network switch that supplies power to the camera while transmitting data and voice. During the setup and installation of IP security cameras, fewer components are involved, such as external power supplies or encoders.
Benefits of IP Security Cameras
IP security cameras offer property owners a high level of security and property protection. The data captured via IP careers are encrypted and authenticated, and the footage is of higher quality due to advanced image compression capabilities. If a camera in your network becomes damaged, you can easily find a sufficient ONVIF-compliant replacement. Because ONVIF is a standard protocol for surveillance security systems in Toronto, most reliable cameras comply with their standards. IP cameras are often very user-friendly and easy to learn. Once installed via an independent camera network, they also will not compromise the security or speed of your Internet connection, increasing their reliability.
Drawbacks of IP Cameras
While IP cameras are often regarded as the best security camera for modern properties and the future, there are a few potential disadvantages. Compared to the price points of analogue security cameras, IP cameras are slightly more expensive. There are also some limitations regarding the distance between cameras and the NVR/PoE (Power over Ethernet) Switches. For the best security camera installation, from design to programming, you will also need the support of an experienced professional.
Not all IP cameras are reliable and user-friendly, but when you find a high-quality option, it can entirely enhance the visibility and control of your property. To find the best security cameras for your needs and budget, contact the Engineered Alarm Solutions team directly. Our experts will give you an honest breakdown of your options so you can find the most effective solution based on layout and concerns.