Points to Keep in Mind When Having a Security Alarm System Installed
Originally posted on 04 May 2021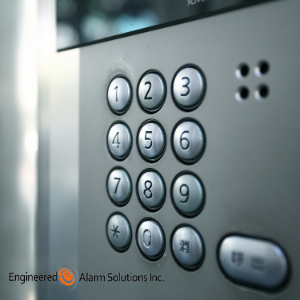 While deterring break-ins is the most common reason that we install commercial security systems in the GTA, the truth is that tools like commercial security cameras, alarms, or glass break sensors do a lot more than prevent theft. Workplaces of all sizes and types are vulnerable to security breaches, and even the most minor event can be devastating, especially when it comes to your feelings of personal safety and vulnerability. When shopping around for workplace security systems, here are a few things to keep in mind:
What Are You Most Interested In Protecting?
There are a couple of ways to approach having security systems installed in Toronto and the GTA. At Engineered Alarms, we often like to ask our clients what exactly they are most interested in protecting. Sometimes it's expensive and mobile stock items, like computers, jewelry, or collectables, while other times, you might need to monitor staff or guests. Identifying the focus of security needs can help us tailor a custom security package to ensure that your safety needs are met.
Security Alarm Features to Keep in Mind
Modern security systems took a massive leap in efficacy and flexibility when smartphones came on the market. Many of our clients require the ability to check in on their business anywhere and anytime. Numerous features connect directly to your smartphone through an app or web browser, giving you real-time insight into what's happening.
Some of the key features you might find in commercial security systems today are:
Commercial security cameras: Gone are the grainy VHS tapes made famous in police dramas from the '90s! Modern security cameras are lightweight, small, and can record for hours. Doorbell cameras, nanny cams, and spotlight cameras are all tools we frequently use.
Door and window sensors: These small, unobtrusive sensors can alert you to open or unlatched doors and windows.
Glass break sensors: Breaking glass has a distinctive sound that these sensors pick up.
Motion detectors: While it's a relatively simple tool, motion detectors are highly functional in scaring away intruders and can be used to alert you, police, or turn on lights and security cameras.
Two-way talk: An intercom can connect you directly to your business or visitors.
A lot of these features are connected directly to your smart phone through an app or web browser, giving you real-time insight into what's happening.
Common Types of Security Alarm Systems
There are several different systems you can use to secure your commercial worksite.
Monitored systems connect you with professional assistance at any time of the day and ensure there's a watchful eye on your property, even when you're asleep.
Wireless Alarm Systems are flexible and easy to install in existing homes and businesses.
Closed Circuit Television (CCTV) systems are widespread in all types of businesses where they assist in health and safety.
At Engineered Alarms, we pride ourselves on taking the time to listen closely to your security needs and develop responsive commercial security systems that you can trust. Contact us to learn more about commercial security in Toronto and the GTA and protect your business!