How To Know If Have A Good Alarm Monitoring System
Originally posted on 18 February 2021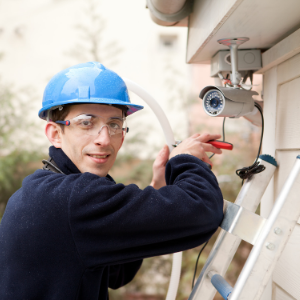 As a business or property owner, locking your doors at the end of the day isn't enough to deter crime, intruders or theft. The right commercial security system in Toronto can help keep you and your commercial property safe all day and all night long. But how do you know if your security system is sufficient enough? The best security systems in Toronto provide extra features that are more than just a simple alarm system. Engineered Alarms Solutions Inc. delivers a customizable security system in Toronto to prepare and protect you and your business from theft, break-ins and more. But if you already have a system in place, how do you know if it's good enough? Here are some features that equate to an excellent alarm monitoring system.
It Has a Fire/Smoke Alarm System
While fire alarm sensors are common in alarm monitoring systems, what many systems lack is tracking carbon monoxide or alarming temperatures. In Toronto, winter temperatures can often drop below zero, leaving the potential for pipes to freeze. With a high-tech temperature monitoring system, you can ensure your space never drops to troublesome temperatures.
It Has Remote Monitoring
With more work from home days on the rise and Toronto's current lockdown, having a remote monitoring system is extremely beneficial. These systems can monitor your heating and air conditioning, but also your lighting and any other machinery. Not to mention, you can be notified directly to your phone 24 hours a day if something has gone wrong.
It Has High-Quality Surveillance Features
Most security systems include surveillance features, but there's more to surveillance than just a single camera. High-quality surveillance systems will consist of a recording and playback feature, cameras on all entrances, back parking lots and 'hard to see' areas. What's more, is that a business owner can have eyes on their commercial space at all times, even from home.
It Has an Identity Verification Feature
An identity verification feature is beneficial for those companies that require high-levels of security. Instead of using an actual key, employees need their own identification card to enter the building or any authorized areas. Not only does this protect the privacy and safety of your business, but it also allows you to track people going in and out of the building.
Alarm Monitoring Systems with Engineered Alarms Solutions Inc. (EAS)
Need a commercial security system in Toronto? Engineered Alarms Solutions Inc. can help. Our team of professionals can engineer a customized security solution for your business or commercial space. Whether you're looking to add an identity verification feature, remote monitoring or more, the choice is yours, and there are many ways to increase your security features.
Ready to get started? Visit Engineered Alarms Solutions Inc online to receive a free quote today. Your security is our top priority. Have more questions? Contact us to learn more.