FAQs About Business Security Cameras In Toronto
Originally posted on 03 September 2021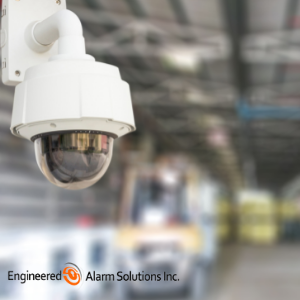 With a proper business security camera installation, you can have peace of mind knowing your valuable assets and sensitive data are effectively protected. Commercial security cameras in Toronto are in high demand. A proper security camera installation can keep your building, its assets and your employees safe from theft and burglary. A simple lock on the front door or security guard doesn't cut it anymore for businesses in Toronto. The only way to truly have peace of mind is with a security camera installation done by the professionals at Engineered Alarms.
Engineered Alarms has been providing security cameras in Toronto for several years. Unlike major telecom companies, Engineered Alarms offers customers comprehensive and customized business alarm systems to protect against theft, loss and damage to your property.
Read on to see the frequently asked questions about business security cameras.
1. How Do Security Cameras In Toronto Work?
Commercial security cameras in Toronto provide your office building with 24/7 surveillance and protection. Remote monitoring, instant notifications and real-time video surveillance are all features included with our custom security systems.
2. What is Real-Time Video Surveillance
For the most peace of mind, choose Real-Time Video Surveillance. Real-time surveillance is exactly what it sounds like; it's 24 hours, around-the-clock monitoring. Turn your security system from a reactive to a proactive alarm system with real-time, remotely accessible video monitoring.
3. Where Should Security Cameras In Toronto Be Installed?
This is one of the most popular questions that alarm system companies receive. There are 6 significant spots that we would like to highlight as essential areas to ensure you have a security camera installed.
Entrance and Exits
One of the most beneficial places and popular places to install security cameras is at the entrance and exits of your office building. They offer a great view of who is walking in and out of your building and act as an instant deterrent for individuals considering committing a crime in your building.
Remote Areas
Even though these remote areas see the least amount of foot traffic, they represent a hotspot for theft. Notably, we see that the dumpster is a popular choice for criminals to stow their stolen goods for later retrieval.
Warehouses
Warehouses are where are of your inventory is stored. Sadly, we often see theft both internally and externally in these areas. So how do you protect your inventory? Install security cameras inside and outside your warehouse to help be your eyes when you cannot be there.
Exterior
In most cases, a crime starts outside. Commercial security cameras installed on the exterior should focus on covering the walkway, parking lot, and loading docs. Covering the walkway and parking lot will help when a crime occurs in this area and also helps your employees who have been burning the midnight oil feel safe on their dark walk back to their cars.
Schedule your Security Camera Installation Today
If you are in the market for a business security camera in Toronto and need professional security camera installation, Engineered Alarms is here to help! Now is the time to secure your office correctly. We design comprehensive commercial security systems that help your employees feel safe and set your company up for success. To learn more about commercial security camera installation advantages, get in touch with our installation experts today.