Comparing WiFi and Hardwired Intercoms Systems
Originally posted on 10 August 2022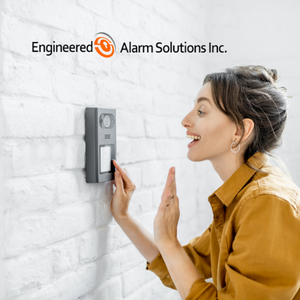 As technology advances, homeowners around the city realize the benefits of investing in security cameras in Toronto and additional home security measures. As homeowners look to enhance their home security systems in Toronto, the popularity of doorbell intercoms continues to grow. In fact, intercom doorbell sales increased by over 27% in the past year. Much of this popularity can be attributed to its convenience. If you're ready to quickly protect your home and increase control with an intercom, the team at Engineered Alarm Solutions is here to help.
Unfortunately, not all intercom systems offer optimal functionality and performance, so read on to learn the difference between hardwired and WiFi.
What Do Hardwired & WiFi Intercoms Have in Common
While there are many factors and features that differ between hardwired and WiFi intercoms. There is some critical functionality that is the same. In modern doorbell intercoms, you can virtually always expect a security camera in Toronto that offers live viewing and night vision. Intercoms also provide real-time notifications and two-way communication.
So, how do you decide between WiFi and hardwired options for your home security system in Toronto? The experts at Engineered Alarm Solutions always recommend hardwired intercoms with local and remote capabilities.
The Pros & Cons of WiFi Intercoms
Before the technology existed to install intercom security cameras in Toronto at your doorbell, WiFi became a popular choice that connected homeowners to the person at their door conveniently via a mobile app that could be accessed from anywhere in the world with a WiFi connection. As over-the-counter intercoms remain popular, they are not without significant drawbacks. When someone rings your WiFi doorbell, there are usually long delays. By the time the message reaches the phone, and you can actively view who is at your door, they're already on their way out, resulting in missed packages and frustration.
Regarding security and peace of mind, Burglars often come equipped with the technology to jam WiFi signals leaving the security system in Toronto ineffective and your property vulnerable.
WiFi intercoms from popular brands like Nest and Ring are also easily identifiable to burglars, who know that even if you answer your doorbell, you may still not be home. As a result, many thieves and criminals try knocking instead.
The Benefits of Hardwired Intercoms
Hardwired systems are found more frequently in retrofitted and newly built homes, making installing hardwired intercom security systems more feasible. When you install one of these intercoms, you can access the life footage conveniently from indoor stations in your home and on your phone. For maximum convenience, the Engineered Alarm Solution team recommends installing individual indoor stations on every floor of your home so even if you don't have your phone or mobile device on hand, you can check your security camera to see who is at your door and speak with them directly. Because the signal cannot be jammed and the connection is direct, you can comfortably rely on fast video feeds without any communication delays.
Intercoms & More Security Systems in Toronto
For the best security system in Toronto, you need a custom approach. Talk to the professionals at Engineered Alarm Solutions for insight into all your options, from Security Cameras in Toronto to motion detection and intercoms for commercial or residential properties.