Best Practices for Choosing Security Cameras in Toronto
Originally posted on 16 September 2022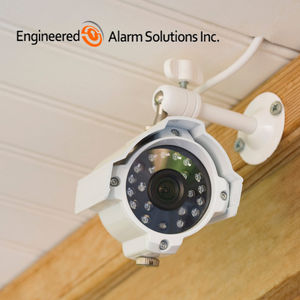 More and more people are realizing the importance of investing in security cameras in Toronto for both their residential properties and businesses. Allowing you to view your property at any time, there is no doubt that cameras are a highly valuable part of security systems in Toronto. However, with various cameras on the market, choosing the right one for your needs can be difficult. With Engineered Alarm Solutions, our team of security system experts will guide you through the selection process. You end up with a comprehensive security system in Toronto that makes sense for your family or business.
Here is a short best practice guide for choosing the right security camera in Toronto.
Wired vs. Wireless Security Cameras
There are generally two types of connections available, both of which are simple to use. One option is wireless, which uses a WiFi signal to connect your security cameras in Toronto to recording devices and storage. WiFi cameras offer some advantages to property owners looking for simple installation because they can be quickly installed anywhere in your home and adjusted easily. When necessary, WiFi cameras can also be easily relocated throughout your property. They are also a more affordable option when it comes to security camera installation because their installation requires less manpower.
Despite their easy installation, there are some considerable drawbacks to Wireless cameras, including limited cloud storage or monthly storage subscription fees. Property owners wirelessly connected security systems in Toronto will also experience delays and feed disruptions from poor connections, which are made worse as more devices use the same WiFi source. The more devices running on your wifi the slower and less reliable your cameras will be. WiFi cameras are also more susceptible to hacking and signal jamming issues.
Because of the less reliable nature of wireless cameras, the experts at Engineered Alarm Solutions highly recommend using wired security cameras. Beyond more stable audio and video signals, wired security cameras are literally impossible to be jammed by burglars, despite requiring a more intensive installation process. Wired security cameras are usually connected to a recording device which does not require a subscription fee however you will still be able to access your cameras from your phones and tablets regardless. While installation is more costly upfront, wired security cameras in Toronto are the best option for the reliability they offer and the low-cost maintenance.
Analogue Vs. IP Cameras
TVI Cameras as well as HD, CVI, and so many other camera models designed for analog cables are more susceptible to failure because there are more electronic components involved in the system. IP security cameras are the most highly recommended by our engineers because they are more reliable, stable, usually provide more security features, and they are future proof. Despite IP security cameras being slightly more expensive than TVI cameras, IP Security Cameras are still the best option to choose from.
Artificial Intelligence & Security Cameras
Some of the most sophisticated security cameras available today use artificial intelligence, enabling more accurate notifications to minimize false alarms. Where some security cameras in Toronto feature motion detection sensors, advanced security systems in Toronto use AI with analytic software to be able to differentiate between cars or people and animals or debris moving through the street. Your cameras can be programmed to understand your property line, filter notifications sent to your phone, or record instances when a threat is detected within these boundaries.
Battery Operated vs. Powered Cameras
While battery operated cameras are available, they are not recommended because they are unreliable and can quickly run out of battery sooner than the manufacturer specs (especially with the Canadian winters). The Engineered Alarm Solution team recommends that property owners install powered cameras (wired), because they offer a consistently steady flow of current and enable a more robust security system in Toronto.
Choosing the Right Security Cameras in Toronto
Security cameras play a vital role in your security system, so it's essential to do your research before making a decision. You can count on the team at Engineered Alarm Solutions to help choose the best security cameras in Toronto for your property.