Benefits of Automated Home Lighting
Originally posted on 28 February 2023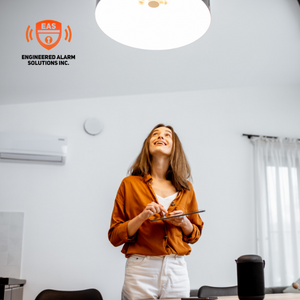 Home automation systems are used in commercial and residential properties to control features and fixtures based on rules and schedules. There are many benefits of using home automation systems which enhance convenience and security. At Engineered Alarm Solutions, our selection of customizable home automation systems in Toronto allows property owners to enable a range of automation, from home security cameras to home lighting. While there are many types of security systems and functionalities that can be automated, one of the most popular is automated lighting.
Read on to learn more about the benefits of automated home lighting.
Automation Enables Convenience
Automated lighting systems can be controlled remotely, allowing you to turn lights on or off, dim them, or change their colour from anywhere using a smartphone app or remote control. Whether you're on your way home from work, on vacation, or even currently in the house, these systems automatically control indoor and outdoor lighting around your home without any effort on your part. So if you're busy, away, or have your hands full, you can be confident that your lighting will be set according to your preferences, saving you time.
Improve Home Energy-Efficiency
When lights are left on for extended periods of time, they can cause electric bills to skyrocket. When life gets busy, turning your lights on and off can slip your mind, and when you're away for a week or two on vacation, or you've left for work without turning off your lights, the energy costs can quickly add up. You can program your automatic lighting system to switch off lights when rooms are not in use, around bedtime, or when you plan to be away, reducing energy consumption and monthly utility bills.
Improve Home Security
Automated lighting is a simple yet effective way to improve home security for homeowners. Using timers or smart home technology to control when lights turn on and off, homeowners create the illusion that someone is home even when they're not. This can deter potential intruders who may be watching the house for signs of activity. Additionally, motion-activated lighting can provide an extra layer of security by illuminating dark areas around the house, making it more difficult for intruders to remain hidden. With automated lighting and advanced home security cameras in Toronto, homeowners can have peace of mind knowing their home is safer and more secure.
Enhanced Home Aesthetics
Automated lighting systems can be programmed to create different lighting scenes, setting the mood for various occasions and enhancing a home's overall look, feel, or ambience. If you're preparing for bed time, your lights can automatically dim to support your ability to wind down for the night.
Improved Accessibility at Home
Automated lighting systems can be integrated with voice-activated virtual assistants, such as Amazon Alexa or Google Home, making it easier for people with mobility issues to control their lights without using their hands.
Home Automation Systems & Engineered Alarm Solutions
Automated home lighting systems provide convenience, energy efficiency, security, aesthetics, and accessibility that can enhance the quality of life in a home. To learn more about the best home automation systems, alarm systems, and home security cameras in Toronto, talk to the trusted professionals at Engineered Alarm Solutions.