Be Smart Shopping For Home Security Alarms And Cameras
Originally posted on 03 February 2022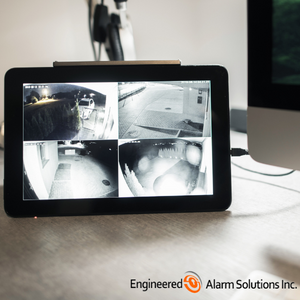 It is hard to know what to look for in a home security alarm system when faced with the many choices and myriad options in the home security industry. The best home security cameras & alarm systems should make your life comfortable and safe without being overly complicated or overstepping your budget.
Read on and stay one step ahead with expert advice from the pros at Engineered Alarm Solutions.
Assess Your Needs
The first step in picking a home security system and security cameras in Toronto is assessing your security needs. Are you looking to secure your home from intruders and burglary? Or do you want environmental monitoring for leaks and fires? Or are you looking for a sophisticated smart home security system with home automation features? Assessing your exact needs will provide the roadmap for the equipment, features, and monitoring plans that fit your requirements.
What To Look For
The security industry mainly consists of three types of security system packages:
Security Equipment:
Standard home security equipment like security cameras, burglar alarms, and other intrusion detection devices can be bought separately to tackle vandalism, intrusion, and burglaries. Engineered Alarm Solutions recommends having your home protected using hardwired IP cameras along with a professionally installed home security system which you can access using your phone or any wireless device. Wired security cameras provide greater reliability and reach. Analogue cameras are less expensive but are not very reliable; plus, they are not problem-Battery-operated security cameras do not require wires, but they are unsuitable for the cold temperature in Canada. Extreme cold will drain the battery quickly, and nobody wants to go out in below-freezing temperatures to recharge batteries!
Completely wireless cameras can eat up the bandwidth of your home Wi-Fi network, and robbers can easily jam the signal. A wire for power is needed anyway, so wired IP cameras are your best bet for secure and reliable home security cameras.
Environmental Monitoring Systems
These include monitored alarms, leak and smoke detectors that alert you to fire threats, indoor floods, and pipe freezes. If you have an older home, you should consider installing such alarms. Engineered Alarm Solutions recommends wired systems over wireless ones. Professional brand wireless alarm systems are okay as the communication in their devices is encrypted. However, do-it-yourself wireless alarm equipment is usually Wi-Fi-based that is not safe or reliable.
Smart Home Automation
This is a whole-home security alarm system with smart tech that comes with a control panel, cameras, alarms, sensors, and monitoring systems. These systems promise futuristic comfort and monitored alarm systems that can be accessed anywhere, anytime. Modern home automated systems offer seamless home integration—from intelligent doorbell cameras and locks to managing your heating, lighting, and more. Prepare for the future of security with smart locks & doors to home automation where everything you want is just a command away!
Professional vs. DIY Security Camera Installation
Professional installation costs a bit more, but a trained expert can do a neat job and help you choose the right equipment and camera positions to provide optimum protection. Experienced professionals from security companies like Engineered Alarm Solutions can optimize the programming of each camera for desired efficiency and reliability. What's more, it comes with a 3-5 year warranty, tech support, and valuable peace of mind!
DIY systems work for smaller homes that only need the basic security features. Installation is easy as the cameras can be mounted on any wall or ceiling. The issue with DIY systems is that they are highly unreliable and can be easily tampered with or hacked.
Safer Homes & Offices with Engineered Alarm Solutions Inc.
Your safety is our priority. Our cutting-edge security solutions and home security cameras are effective, reliable, convenient, and economical. Start building your customized home security system today! Call us or contact us online to start a conversation about home security alarm systems that reflect your lifestyle!