Are Catalytic Converters the Reason Your Business is Being Targeted?
Originally posted on 15 May 2023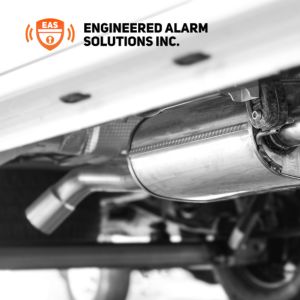 Catalytic converters are useful devices that are installed on the exhaust system of all vehicles to reduce the number of toxic pollutants being released into the air. Catalytic converters have become a popular target for people looking to earn a quick payday because they're typically made from high-value precious metals like platinum, palladium, and rhodium, which can be traded in for hundreds of dollars.
Because catalytic converters are situated under the vehicles usually located in the parking lot of a commercial property, traditional commercial security cameras may not be enough to detect criminal behavior and prevent their theft. At Engineered Alarm Solutions, we offer sophisticated commercial security systems and security camera installation to protect your property and vehicles.
Read on to learn how to protect your catalytic converter and property with commercial security camera installation and more.
How to Know if Your Catalytic Converter is Being Targeted
Certain vehicles are targeted more commonly for catalytic converter theft. Primarily cars or trucks with high clearances such as SUVs, pickup trucks, and other work trucks are the most at risk. The elevated vehicle makes accessing the catalytic converter much easier than with cars that sit lower to the ground, facilitating the ease and speed of removal.
Thieves will typically target vehicles parked outside commercial, and sometimes residential properties, where they do not see security cameras. At Engineered Alarm Solutions, we recommend residential and commercial security camera installation facing your parking lot and vehicles to reduce your chance of being a target.
Parking Loft Theft Prevention
Many businesses require these large vehicles with high clearance to do their job effectively, so one of the best ways to prevent your car or property from becoming a target is by setting up a sophisticated security system equipped with the features to deter crime while also recognizing and notifying you of potential criminal activity in real time.
AI (Artificial Intelligence) Security Cameras & Motion Detection: Camera analytics software allows the camera to learn and adjust the way your property is monitored. Motion detection during set hours will allow your system to send you notifications when suspicious activity is going on within the camera's view. Cameras with Facial recognition technology and license plate cameras are also an option to identify suspicious people.
Well-Positioned Security Camera Installation: Statistics and studies show that property residential and commercial security camera installation helps to reduce crime by up to 51%, especially in the case of car theft. If your vehicle seems like a good fit for catalytic converter theft, installing commercial security cameras facing your parking lot can reduce opportunity and allure for criminals.
Loudspeakers & Monitoring Stations: Video Monitoring Service is the best solution to prevent this issue. When a thief enters the parking lot and approaches a parked vehicle, a remote security guard will see the cameras (live view). Depending on the situation security teams will speak to the thief by using the loudspeaker. If the intruder does not leave the premises, police or a private security guard will be quickly dispatched.
Upgrade Your Security System with Engineered Alarm Solutions
Protect your vehicle from the catalytic converter threat with high-quality security camera installation. At Engineered Alarm Solutions, our team of security technology experts will help you determine the best setup, so you can protect your property and peace of mind.