4 Tips To Burglar Proof Your Home
Originally posted on 20 October 2021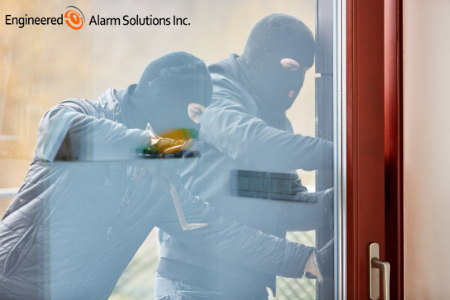 Burglar proofing your home is one of the most important tasks you can undertake. According to the National Insurance Crime Bureau, there were over three million burglaries in 2019, and that number continues to rise each year.
The best way to protect yourself and your family is to take a customized and thoughtful approach to home security and burglar-proofing your home with the help of Engineered Alarms. From installing a home intercom system to ensuring proper locks, there are big and small ways to burglar-proof your home. Here are our top four tips on how to burglar-proof your home.
1. Home Security Cameras
Home security cameras are an excellent deterrent for burglars and intruders. Installing a surveillance camera system typically includes a central processing unit that manages video feeds coming in from different security cameras. When choosing a home security camera, you will have the option for local recording or monitored security cameras. Opting for a monitored home security camera means your alarm company will contact you as soon as anything is tripped.
You also want to make sure you purchase high-quality hard-wired security cameras, as these are harder for thieves to manipulate. The inability to easily sabotage your home security system means you are more likely to capture footage of the perpetrators doing something terrible! The last thing you need is no images because someone's jammed your Wi-Fi signal, thereby eliminating any chance of catching the perpetrator red-handed.
2. Install Monitored Alarm System
Installing a hardwired monitored alarm system is one of the smartest moves homeowners can make to burglar-proof their home. With a customized home alarm system designed by Engineered Alarm Solutions, you can pick and choose the features you want to include.
Some common Alarm System features include:
1) Motion Detectors
Motion detectors are particularly great for providing you with peace of mind when you are on vacation. When connected to a monitored alarm system, these will trigger the alarm immediately when someone enters different exclusion zones set up around the house. The Alarm System will report to your monitoring station about the detected motion and the monitoring station will contact you and the Police immediately.
2) Glass Break Detectors
Glass break sensors are a great complement to door and window sensors. It is a unique technology that can detect the sound and vibration associated with glass breaking. This alarm acts as the first alarm trip in the event of someone breaking a window or glassy door. Once a glass break sensor is tripped, emergency services are immediately alerted.
3) Door & Window Sensors
These sensors are tripped when a door or window is opened when set to lock. It is often the first alarm tripped by burglars. Having it connected to your monitored alarm system means you will be immediately alerted and inform your alarm company if 911 is needed.
3. Consider Home Automation
Home Automation systems allow you to control many facets of your home remotely. With home automation, you can control lights, cameras, garage doors, and even your thermostat.
Take going on vacation, for example. With home automation, you can remotely access and control your locks if you leave but are unsure if you locked your front door! While away, you can set your lights and sound system to come on and off at certain times to make it look like you are home. You can even save on heating costs by setting lower thermostat temperatures while away.
NOTE: If your home automation is connected to your monitored alarm system, you do not depend on Wi-Fi and you can receive real-time alerts about any activities on your property, ensuring you never miss a beat, even if there is a power outage and your Internet modem is off.
4. Proper Locks
People who intrude into homes through the windows will usually look for inactive home security systems or open windows that they can use to break open to. It's essential that you lock your windows and doors when away from home.
According to Stat Canada, the most common method of entry for burglars was through an unlocked door or window. To avoid an easy entry point for a burglar, you need to ensure all of your doors and windows – particularly those that lead to the basement – have good locks installed.
Call For Custom Home Security Systems
Securing your home is essential for homeowners, especially those who live in major cities like Toronto. Installing a custom burglar alarm system can be all you need to deter burglars. Engineered Alarm Solutions provides custom security systems for commercial & residential properties in Toronto & GTA.
We promise to deliver efficient security solutions at affordable pricing, featuring leading technology for your home or business, designed by our engineers and installed by professional technicians. Contact us today to learn more about the home security system options available to you.