The Ultimate Security Camera Buying Guide For Residential & Commercial Properties
Originally posted on 21 March 2022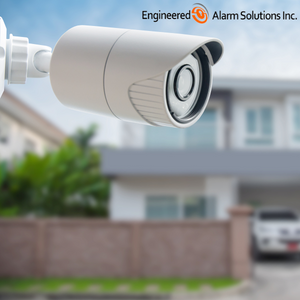 Security cameras are a staple in any commercial or home security system. Once primarily the privilege of the very wealthy or famous, commercial and home security cameras have come a long way in recent years. Today they're better, easily available, and more affordable than ever. There's also a wide variety of security cameras for different premises and situations. Selecting the right camera for your needs is vital. That is why the experts at Engineered Alarm Solutions have put together this quick guide to the varied types of home and commercial security cameras.
Different Types Of Security Cameras
Outdoor Cameras
Primarily meant for exterior use, outdoor cameras are designed to withstand the elements and are water, temperature, and weather-proof. Ingress Procession or IP standard classifies a device's protection against water and dust. Outdoor cameras are usually IP66 or IP67, though IP66 works for most. Outdoor home and commercial security cameras come with a host of features depending on individual needs and budget. These include wide-angle lenses, motion-activation, remote viewing, HD, Night vision etc.
Indoor Cameras
Indoor cameras are lightweight as they are meant to be used indoors and don't have to withstand harsh weather conditions. They usually cost lesser than outdoor cams but offer similar features like microphones with two-way talk, infrared night vision, motion detection, remote viewing through mobile apps, wide-angle view etc.
Infrared Cameras
Infrared cameras are designed to allow clear recording at night using LED infrared lights. These are best for night vision as they provide clear recording even in complete darkness, smoke, fog or dust. Infrared cams are expensive and are suitable for banks, commercial establishments, industries, and homes that require ultra-reliable recording features.
Thermal Image Cameras
These are highly advanced security cameras that can capture thermal images using temperature instead of visible properties. Thermal cameras see 'heat' as thermal radiation can pass through visual barriers to provide images even in far-off and extremely low-light conditions. They are amongst the best surveillance cameras that provide 24/7 coverage and detect threats even 250-300 metres away. They are ideal for airports, seaports, military and other critical infrastructures.
IP Cameras
IP or Internet Protocol cameras transmit digital signals over a network using the internet. These cameras are perfect as home security cameras and for businesses that require remote surveillance. Live digital footage can be shared across the net and viewed remotely via a smartphone, PC, or laptop.
Analogue Cameras
These traditional cameras transmit images as analogue video signals over a coaxial cable to the Digital Video Recorder(DVR) that digitizes and stores them on a hard drive or SD Card. As the analogue camera is not connected to the net, you can't live-stream video footage. These cameras are a better choice where the internet is intermittent or unavailable.
Wi-Fi Cameras
Wi-Fi cameras are connected to a Wi-Fi network, and the recorded footage is usually stored in the cloud. These cameras are quite popular due to their low cost and easy installation as they don't need a wire to transmit the feed. However, they require a wired connection for power. Ideally, wired cameras are the way to go, as Wi-Fi cameras can be unreliable and are susceptible to interference. It is easy to block or hack the Wi-Fi signal, and these systems use significant bandwidth that slows your net speed.
Engineered Alarm Solutions: Protection You Can Count On!
Whichever camera you choose, remember to select the camera that meets your unique security needs. Your chosen commercial or home security camera should integrate seamlessly with the other security system components you have installed. Trust the
Protection of Engineered Alarm Solutions for avant-garde home and commercial security cameras with leading-edge technology, safety, and convenience. Contact us to secure your home or business today!