Why Wired Security Cameras Are A Smart Choice Than Wifi Security Cameras
Originally posted on 03 November 2021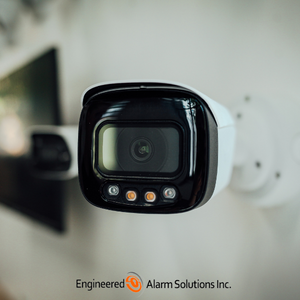 For many in Toronto, investing in a security camera is vital to safeguard your office, home, and family. However, most people are confused about choosing between WiFi and wired commercial security cameras in Toronto. While WiFi security cameras may seem like a great idea and an easy solution, wired home security cameras are actually the better option! At Engineered Alarms, we are committed to providing the best-in-class security solutions to our customers and thought it would be best to educate consumers on the shortfalls of WiFi security cameras. Unfortunately, WiFi cameras do not offer the same level of security as hard-wired cameras and hackers can easily access your network. Here's why you should purchase a wired home security camera rather than a WiFi camera system:
Why You Need A Home Security Camera
Security is a concern for all of us and investing in a home security camera is one of the best decisions you can make! Statistics show that installing home security cameras reduces the risk of burglary and break-ins by up to 50%! Security cameras in Toronto act as a visible deterrent to potential burglars and intruders, and a complete home security system can ensure protection and peace of mind. Choice of the type of camera is essential, and we are here to help you make an informed decision.
Cons Of WiFi Home Security Cameras
Though wireless WiFi cameras are easy to install and use, they have inherent disadvantages:
WiFi Dependence: These cameras are connected to the net through WiFi and only work with a proper WiFi signal. Walls and distance from the router can degrade the signals resulting in spotty videos, camera freezes, and video lags. Sometimes, they can even disconnect completely.
Not Secure: Wireless signals are not secure and can be easily jammed or hacked, thus compromising your privacy and security. Online footage transmitted to cloud storage can create privacy issues as it is vulnerable to hacking.
No Continuous Monitoring: Wireless cameras usually do not record continuously due to prohibitive cloud storage costs.
Storage Expenses: Wireless cameras usually upload the feed to cloud storage. This means additional storage expenses for cloud subscriptions or monthly fees.
Battery Trouble: Wire-free cameras have batteries that can be a pain as they need to be changed every 2-3 months.
Maintenance Issues: Though installation is easy, WiFi cameras require more maintenance than wired ones.
Pros Of HardWired Security Cameras
Hard-wired cameras are the best as they are connected to the home base, the brain of the camera. Here's why we recommend wired home security cameras:
Reliable: Wired systems are more reliable as there are no issues with WiFi connectivity or battery charging. Even if the WiFi network is down, the cameras can still operate and record footage locally.
More Secure: Wired cameras are more secure as there is little probability of hacking through WiFi. The recorded footage is stored in the home base that cannot be accessed easily.
Better Video Quality: There are no connectivity or bandwidth issues in a wired camera, so the video quality is better and more consistent. No glitches, video lags or fluctuations!
Can Access Remotely: You also have the flexibility to connect to the net through wired internet using an app and view the footage remotely.
More Cameras at Lower Expense: You can add more cameras at less cost in a wired system. The wired cameras cost less than the wireless ones as the recording is done in the home base and not the camera itself.
No Storage Fees: The cameras can record continuously and have no additional cloud storage subscription or monthly fees.
The Last Word:
Though WiFi security cameras are often seen as user-friendly, they are susceptible to hacking and maintenance issues. Overall, you're better off with a wired security system if you are looking for greater reliability, security, and cost-effectiveness.
Engineered Alarm Solutions Inc.: Security Solutions You Can Trust!
If you're looking for top-tier customized security solutions for your home or business, look no further than Engineered Alarm Solutions! Our extensive selection of home security cameras in Toronto provides maximum protection with cutting-edge technology and 24/7 customer service. Get in touch with the experts at Engineered alarms to choose the commercial or home security camera that is right for you!