The Benefits of Geo Fence Technology
Originally posted on 31 May 2023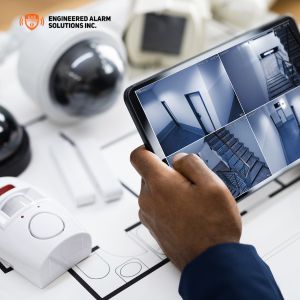 Geofence technology is an innovative feature that allows property owners to enhance the power of office and home automation systems and security cameras. Location-based technology will enable you to create a virtual boundary around your home or business. With sophisticated security systems in Toronto, you can program your system to improve visibility and control of your property while maximizing convenience. At Engineered Alarm Solutions, our team of specialists will guide you through all your home and commercial security options so you can build a robust system that gives you the peace of mind you deserve.
Read on to learn more about the benefits of enhancing your commercial security systems with Geofence technology.
How Does Geofence Technology Work?
Geofence technology allows property owners to set up a virtual fence around the perimeter of their property or other vital zones, which is monitored by commercial security cameras and commercial and home automation systems. When people approach or cross that virtual fence, specific actions or alerts are engaged depending on your security system and how it is programmed. There are many advantages to leveraging commercial security cameras equipped with geofence technology, including ease, convenience, and more comprehensive security coverage.
Remote Notifications
When you have geofences or virtual boundaries set up, your security system will directly send notification alerts to your smartphone or other connected devices about suspicious activity within your property. Combined with artificial intelligence technology, your security camera can precisely separate actions caused by animals, wind or debris from people and cars, giving you access to more relevant information about potential security threats. This technology offers business owners and property owners the peace of mind that they will be promptly made aware of any security issues.
Enable Home & Office Automation
The power of commercial and home automation systems is known for their ability to unlock convenience, saving time and energy. With the addition of geofence technology, these benefits are only increased, offering a whole new level of comfort and efficiency. Incorporating automation systems with your location settings allows you to set up personalized actions based on proximity to the property. As you approach the property, you leverage geofence technology to trigger thermostats, activate lights, and even arm or disarm your security system in Toronto.
Benefits of Geofence Security Systems
The power, accuracy, and comprehensive capabilities of geofence commercial security cameras allow for more robust monitoring. Business owners can comfortably move to and from their property without worrying about what will happen while they're away. This technology offers enhanced coverage and visibility. When paired with live surveillance from our monitoring station, you can be sure that any suspicious activity will be identified and addressed.
Talk to Engineered Alarm Solutions
Enhance your security systems in Toronto with custom options from Engineered Alarm Solutions. Our experienced security experts will help you choose and install the best security cameras in Toronto and more.