Pros & Cons of Dome and Bullet Security Cameras
Originally posted on 07 June 2022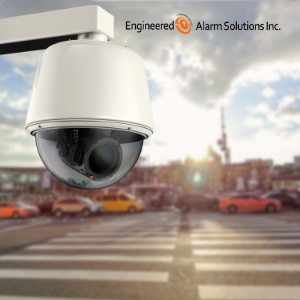 Both bullet and dome security cameras are a great alternative to traditional security cameras in Toronto. They offer many of the features and benefits you expect from a high-quality security camera, but in an attractive design, tailored to your space. So the key to the best functionality from either a bullet or dome camera is selecting the right one for your business or home's specific needs.
For the best security system installation, let the professionals at Engineered Alarm Solutions guide you. Our team of security system experts will provide you with the information you need to pick a security camera that meets all your requirements.
Here are some things to consider as you choose between Dome and Bullet security cameras in Toronto.
Pros of Dome Security Cameras
Vandal Resistant: Vandalism or tamper-resistant are crucial to effective monitoring. When security cameras in Toronto are susceptible to damage, tampering, or vandalism, by being in reach, it's best to choose dome cameras for your security system installation. Most of the time, dome cameras are equipped with vandal-resistant ratings, which can help you choose the best security cameras. Once a dome camera security system is installed, they are entirely enclosed and difficult to dismantle, effectively warding off tampering or interference with your surveillance.
Weatherproof: The weather has the potential to create a significant amount of interference to surveillance, so for effective outdoor monitoring, weatherproof or water-resistant systems are essential. Prior to installation, it helps to check the camera's IP (Ingress Protection), which essentially tells us how well a security camera is protected from its external environment. On average, dome cameras tend to carry an IP rating of IP65, IP66, and IP67. To enhance weather protection, security vendors such as Engineered Alarm Solutions provide integrated temperature gauges and heaters during security system installation to enable cameras to operate even in extreme temperatures.
Night Vision: As expected, most of the time, trouble occurs at night because of the darkness and lack of visibility. To enhance nighttime visibility and surveillance of your property, dome cameras are equipped with built-in IR illuminators and progressive CMOS sensors. Together, the CMOS sensor and IR illuminators provide optimal low-light camera performance, enabling 30 meters of visibility or more, both indoors and outdoors.
Setbacks of Dome Cameras
There are many benefits of dome camera security systems when your property is suited to it. Some drawbacks of dome cameras include a shorter range when compared to other cameras and increased camera cleaning for optimal visibility. In some cases, dome cameras lead to more complex and tedious security system installation, but with the right installation team, you can be confident in the performance and positioning of your dome cameras.
Bullet Camera Pros
Deterrent: Compared to other security cameras, bullet cameras are exposed and visible. By being easily identifiable, bullet security cameras are better at deterring crime by simply being installed.
Installation: Unlike dome cameras, bullet cameras are not encased, making the security system installation easier and faster. This also makes the repositioning of bullet cameras more manageable.
Camera Range: Generally, bullet cameras have more extensive ranges than dome cameras, providing wider and longer visibility. This allows you to efficiently monitor more of your property with less hardware.
Setbacks of Bullet Cameras
While bullet cameras allow for good range, easier installation, and crime deterrence, they are not as durable as dome cameras, making them more susceptible to vandalism. To prevent bullet camera tampering, consider installing these security cameras in larger spaces and areas that are generally out of reach. Bullet cameras are also less discreet than dome cameras, and they are sometimes used by small birds to build nests.
The Best Security System Installation for You
While all security systems have their pros and cons. Choosing the best security cameras in Toronto comes down to balancing your specific design and functionality needs. For guidance and security camera installation in Toronto, the team at Engineered Alarm Solutions is here to help.