Benefits of Connecting Your Security System to Your Smartphone
Originally posted on 19 December 2022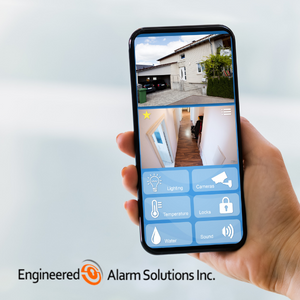 You don't spend the entirety of your day at home, so it's common to be concerned about what's happening around your property while you're away. Whether you have kids at home or valuables, you want to protect the people you care about most and the things that matter to you. Security camera installation is the first step to getting visibility of your property. But remote access to your home security cameras and alarm systems from your smartphone increases your control, no matter where you are.
At Engineered Alarm Solutions, we help property owners across the Greater Toronto Area find the most robust security solutions for their needs and concerns, from security systems to installation. To learn how remote access to your home security cameras and your entire security system can benefit you, read on.
Features You Can Access From a Smartphone
With modern security technology, there are many aspects of your security system that can be accessed and controlled from your smartphone or mobile device (tablet, laptop etc.). Some of these features include home security cameras, intercom communication, alarm functionality, and home automation.
On-Demand Monitoring
By including remote mobile access with your security camera installation, you will have on-demand access to real-time and retrospective views and activity around your property to put your mind at ease and make adjustments as necessary. While it may be beneficial to look back at recordings of your property from your home security cameras, when you're away, you may want a live view of your property, whether it's to keep an eye on your children, your pets, or the status of your belongings. Real-time viewing allows you to respond to the current happenings around your property no matter where you are, whether you're travelling or down the street.
Automatic Notifications
When there are signs of trouble around your home detected by your security cameras, alarm systems, or even geo-fence technology, like fires, floods, or break-in attempts, advanced security systems send notifications directly to your phone, making you immediately aware and able to take action. But when you choose Engineered Alarm Solutions for your security system and security camera installation, these notifications are sent to the live monitoring station, immediately dispatching the appropriate first responders to minimize damage and trouble, even if you can't get home first.
Security While Asleep
At some point, everyone must go to sleep. Unfortunately, this is when many burglaries or accidents happen. When your phone is connected to your security system, you can get immediate alerts when signs of trouble are detected, no matter where you are located no matter if it is your residence, business or cottage enabling you to respond faster. When any of your alarms, be it your door/window sensors, motion detectors, glass break sensors, flood, smoke, or carbon monoxide monitors, are triggered, notifications will also be sent to your phone, waking you from your sleep, so you can react promptly, which can help when you can't hear the alarm itself.
Improve Your Security with Engineered Alarm Solutions
To learn more about maximizing your home security system, contact Engineered Alarm Solutions. We are here to help you find tailored solutions, from security camera installation to added features to help you feel safer in and out of your home.
Upgrade Your Home Security