Do Home Security Cameras Really Deter Crime In Toronto?
Originally posted on 24 January 2022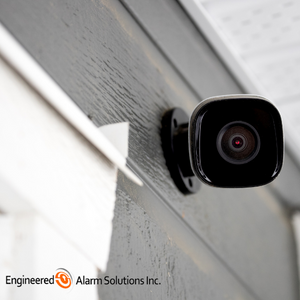 Home security cameras in Toronto are becoming a significant part of many homeowners' lives, and for a good reason. With greater accessibility and affordability of security systems, a home security camera installation is a sensible move to protect your loved ones and property. One of the prime reasons people purchase home security cameras is to deter crime. Let's take a closer look at whether home security systems and cameras actually prevent crime.
Home Security Cameras To Deter Crime
There are varying opinions on whether home security cameras really deter crime. While some may argue that if someone plans to commit a crime, they won't be put off by the presence of home security cameras. However, most experts agree that potential criminals thinking about robbing your home will be less likely to do so if they know you have security cameras installed. Research studies suggest that installing security cameras has led to reduced burglary rates. Interviews with actual burglars reveal that almost 60% of them agree that they would be reluctant to break into a property with security cameras and alarm systems. Overall, most researchers agree that while security camera systems cannot prevent 100% of crime, evidence suggests that they generally deter and reduce crime.
Making Your Home Safe From Crime
Safety is undoubtedly the topmost concern for all homeowners. Traditional security measures include sturdy locks, fencing, and proper lighting in home entryways and backyards. Technological advancements have paved the way for smart security systems and cameras that provide an extra layer of protection. Monitored alarms offer real-time notifications via text or calls in case of any unauthorized entry into your home. The integration of wireless technology, internet, and alarm systems in modern home security systems ensures maximum protection with peace of mind.
How To Boost the Effectiveness Of Your Security Camera
Simple tips and tweaks can enhance the effectiveness of your security cameras. Here's how:
Visibility: While strategic security camera installation is essential, making sure that your security elements are visible is equally important. The experts at Engineered Alarm Solutions recommend placing your cameras so that they are visible to potential criminals as a warning sign and deterrent.
Alarms & Sirens: Cameras with in-built sirens and speakers enable audio warnings during attempted break-ins.
Lighting: Motion-activated lighting and spotlight cameras can literally put any potential burglars under the spotlight! Opting for such additional features can provide active deterrence in attempted thefts.
Night Vision: When buying home security cameras in Toronto, check that they have good night vision with far-infrared LED sensors for clear footage at night.
Invest in Security & Peace of Mind
When it comes to deterring crime, installing home security cameras in Toronto with alarm systems works great. Studies show that home security camera installation acts as a warning and discourages criminals as the risk of being caught is often enough to make them move on. Home Security Cameras are an inexpensive and accessible option for property owners to monitor activity in and around their homes or businesses.
So make an investment in enhanced security and peace of mind with smart security solutions from Engineered Alarm Solutions Inc. Explore greater home security with our extensive selection of security cameras, intrusion detection, and alarm systems for maximum protection at minimum cost. Get in touch with our experts to help you make an informed decision and choose the camera that suits your unique needs!