Consider This When Buying A Commercial Access Control System
Originally posted on 20 September 2021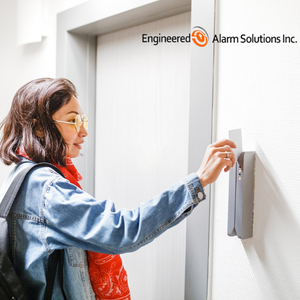 For most medium and large-sized corporations, the importance of proper monitoring and tracking of staff and visitors cannot be overstated. You need a commercial access control system that is reliable and efficient. An access control system is used to monitor, manage and control people's access in your office building. If your business needs a security system for its building, choosing the right commercial access control system can be beneficial in preventing unwanted intruders or accidents.
There are various access control systems on the market. To get the best results when looking for a reliable and secure system, you should know what technical components to look for, such as intercom alarm systems and real-time monitoring. Before you shop for an access control system, here are some important considerations to factor in when buying the right alarm system for you.
What Type Of Security Do You Need
What type of business or home do you own? Do you own a commercial business, retail store, manufacturing company or another type of enterprise? Do you need protection from break-ins and theft? Are you concerned about safety and want to be alerted in case of emergencies like fires and gas leaks? Are you looking for a way to protect your intellectual property and other sensitive information? It's important to know what kind of security your business or home needs before choosing an access control system.
Choose the Access Method For Your Security System
When you're buying an access control system, learn about the different options. Each option provides varying features that help you decide which system is best for your business. For example, you might want to choose a card-based method if you're looking for a keyless entry system. An employee identification card helps track the employee's entrance time, reduce fraud and theft, and makes your building safer. Unlike a card-based system, a biometric access control system uses fingerprinting technology to identify employees. A biometric access control system is typically more expensive than other options but has greater security options.
Wired Or Wireless Alarm System
There are benefits associated with both wired and wireless access control systems. The right access control system for your office will depend on how much geographical area you want to cover. A wired system uses physical wires to communicate with the different parts of the system. While this system is more affordable to install, it can be costly to maintain these wires in an already built office space. A wired system, which connects to your network via cables, may be more appropriate if you're looking to cover a large area. This is because wires allow for continuous communication between the access control system and the other devices in the building. Wired systems are also ideal for businesses that are still under construction or in the initial stages of establishing their office space.
Installing An Access Control System
The decision to install a security system in your home or business should never be taken lightly. It has the power to secure your belongings, protect you and your loved ones and ensure the safety of your property. During the installation process, an engineer will walk you through all the commercial access control system components, explaining what each piece does.
Intercom Alarm System
One of the most critical components of the commercial access control system is the intercom alarm system. Intercom alarm systems are responsible for managing the communication of all aspects of access for both people and vehicles. A comprehensive access control system that includes an intercom system will monitor:
Who enters an area
How long do they stay
Where they go
What they take
Consider these points before deciding on a new security system for your company or business building. No doubt having a reliable security system in place will help protect your business, employees and customers from any unforeseen circumstances. Contact Engineered Alarms today to learn more about their custom commercial access control systems!