Benefits of Adding Glass Break Detection to Your Security System in Toronto
Originally posted on 30 November 2022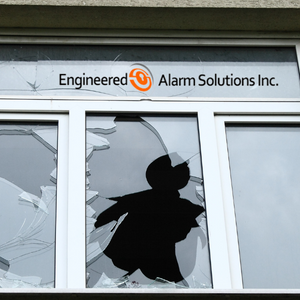 Typically, when it comes to security systems in Toronto, residential properties are equipped with a few cameras, door sensors, and perhaps some window alarms. While this offers some level of protection against burglaries and home invasions, many criminals know how to circumvent these measures. For better security and response to burglaries at home, the experts at Engineered Alarm Solutions recommend going beyond basic protection and incorporating glass break detectors when required with your security camera installation.
If you're unsure whether glass break detectors are a suitable addition to your security system in Toronto, read on.
How Glass Break Detectors Work
Glass break detection systems complement motion detectors and home security cameras to enhance security systems in Toronto. Where security camera installation can be used to monitor movement or sense suspicious motion, glass break detectors monitor sound and vibration, allowing property owners to protect more entry points more effectively. When glass is shattered, the vibration occurs at a specific frequency that sounds the alarm and alerts the alarm monitoring centre. Glass break detection offers many benefits to property owners. Working with the experts at Engineered Alarm Solutions, you can combine this feature with your home security cameras for a more robust security system in Toronto.
Here are some benefits of glass break detection for residential and commercial properties.
Secure More Points of Entry
In most cases, motion sensors and alarms are installed on floor-level doors and some windows, but those are not the only accessible entry points for burglars and nefarious criminals. Even if a door sensor is installed, criminals can work around the security measure by breaking the glass and entering that way.
Glass break detectors add a layer of protection to upper levels that can be accessed, quickly alerting home and office owners about suspicious activity around windows or doors that are unarmed or did not need to be opened to be breached by criminals.
Peace of Mind & Redundancy
Unfortunately, many burglars are cunning and strategic, which means that they can often find a way to circumvent standard security measures in place, either hiding their faces from some home security cameras or blocking internet signals with WiFi-based security camera installation. Glass break detection adds an additional layer of security that is less known to criminals. This means that if one area of your security system is taken down or overcome, you'll still have a layer of protection when a window is broken to gain access to your home.
Easily Alert Monitoring Station
Glass break monitors are connected to your entire security system seamlessly, so when there is a break-in attempt and your windows have been broken, the monitoring station is immediately alerted, dispatching police quickly. The automatic alerts to your smartphone and the monitoring station keep you aware of what's happening around your property, even when you're away at work or on vacation while sending the appropriate help before burglars can get into your property.
Tailored Security Systems in Toronto
Engineered Alarm Solutions offers property owners in the Greater Toronto Area a wide range of options to enhance their security systems for comprehensive protection and peace of mind. Contact us today to find the best home security cameras, alarms, and installation services for your property.