Why Upgrade Your Fire Alarm Systems at Home?
Originally posted on 26 September 2022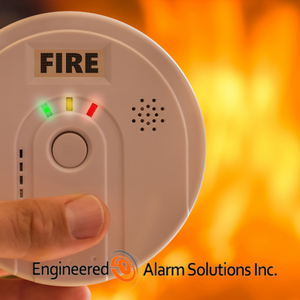 In Canada, there are approximately 24,000 house fires every year. More specifically, in Ontario, the number of fatalities from residential fires increased by 35% in 2020, according to the Ontario Association of Fire Chiefs. In many cases, these injuries and deaths can be prevented with early detection, so residential properties must all be equipped with functioning smoke detectors and carbon monoxide detectors on every floor and outside of sleeping areas or bedrooms, as per fire codes in Ontario. For more robust protection, you can enhance your security system in Toronto with home security cameras and a fire alarm system from Engineered Alarm Solutions.
Paired with a monitoring system and home security cameras, you can protect your property and your loved ones from the threat of fire. To learn more, reach out to the specialists at Engineered Alarm Solutions.
Here are some reasons why you should upgrade your home fire alarm system.
About Local Smoke Detectors
The smoke alarms that come with a home, as per Ontario building codes, are triggered when they detect smoke and sound their alarm locally within the structure in which they are installed. In the case of a fire, where everyone is at home, it is highly recommended to have an escape plan with a clear escape route, this fire alarm system will likely enable a quick and seamless evacuation. Unfortunately, local smoke detectors are not an adequate fire alarm system in more complex situations. To increase protection against fire, prevent injury, and preserve your property, the Engineered Alarm Solutions team recommends an advanced fire alarm system equipped with home security cameras and monitoring systems connected to a monitoring station.
Alert Monitoring Stations & First Responders
If you're away from your home or trapped by a fire, time is of the essence, and outside help is required. Uprated monitored smoke detectors from Engineered Alarm Solutions work the same as the local ones, but they have the added benefit of alerting the monitoring station of the situation which in turn will dispatch the fire department.
When someone has limited mobility or is caged in by a fire, the automatic dispatch of the fire department by the monitoring station can save lives. When you're on vacation or away and the home is left vacant, on the other hand, a fire alarm system can be notified of an alarm on your property and dispatch firefighters independently of you. Because the fire department is notified immediately of the situation, they can get to your property faster and have more time to minimize damage and even get pets out. The monitoring station needs to be made aware you have a pet living in the property.
Phone & Mobile Device Alerts
Because local fire alarms only go off when they detect smoke, they may only sound off on the floor on which the fire is located. As a result, people who are asleep or not on the same floor as the fire may not be able to hear the alarm, so they won't evacuate. An advanced fire alarm system integrates with your home security system in Toronto. It sends notifications to phones and smart devices to alert everyone of a fire and ensure they have the information they need to evacuate the premises.
Upgrade Your Fire Alarm System
At Engineered Alarm Solutions, we have fire and carbon monoxide alarm systems to help you feel more comfortable inside and outside your home. Talk to our team today to learn more about our home alarm systems.