How to Schedule Home Automation Systems While You're on Vacation
Originally posted on 08 December 2022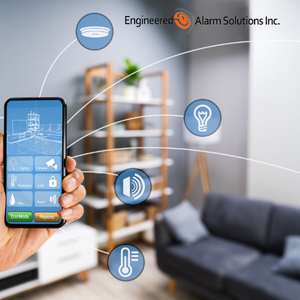 Preparing for a vacation is always exciting but getting prepared is often overwhelming. From packing to organizing, there's a lot to do. An important step homeowners take to prepare for a long trip is upgrading their home alarm systems. A robust alarm system, along with a security camera in Toronto, can help minimize trouble at home when no one can be looking after your house. Installing advanced home automation systems is a smart and strategic way to deter crime and protect your property while on vacation. To enhance your security system in Toronto with home automation systems, reach out to the experts at Engineered Alarm Solutions. Our team will work with you to develop and set up a comprehensive automated security system that makes sense for your property and provides you with the peace of mind you need to enjoy your trip.
Light Automation
Incorporating automatic lights into your home alarm system enhances crime deterrence by keeping your property well-lit and less attractive to burglars. It also helps to save energy while you're away. With an advanced home automation system, you can easily schedule driveway lights to turn on and off with the sunset and sunrise, even when you're away from home. With the ease of home automation, you can still remotely adjust your light schedule from your phone or tablet, turning your home and driveway lights on and off as you please. This flexibility, with light automation, gives the impression that someone is home, even when the whole family is away on vacation.
Curtain Automation
The role of curtains is often underestimated. They play a significant part in enabling security and privacy. If you're worried about peeping Toms, curtains can effectively block visual access to your home, facilitating a sense of safety and security. Curtain automation is great for parents when they're away from their children, ensuring that no onlookers can tell when someone is home. This feature can be programmed to open and close curtains and specific times of day, helping to reduce the use of heating and cooling systems throughout the day.
Home Entertainment Automation
When you're away, making it appear that someone is home is a great way to deter crime. Like with automatic lighting and curtain movement, automation of entertainment systems allows you to turn on TVs and speakers from a distance, so it sounds like people are at home.
Geofence Automation
Geo-fences are an innovative security feature that can be integrated with home alarm systems. Geofencing technology, available from Engineered Alarm Solution, is offered through a robust mobile app that uses WiFi, cellular data, GPS, or RFID (radio frequency identification) to trigger an action when one of your wireless devices enters a particular zone. The automated action predetermined by geo-fencing technology can include controlling doors, deadlocks, and thermostats and enabling your home alarm system. With advanced geofencing automation, a mobile alert can be automatically sent to your phone the moment you cross the invisible line to remind you to take action.
Flood Detection Systems
Winter can spell trouble at home when you're gone for the holidays. With advanced home automation systems, specifically flood detection, you can prevent damage to your home. Monitored by your home security system, flood detection systems can automatically shut off the main water supply to your home and notify you to prevent significant flooding or water damage while also sending a notification to your phone and the home monitoring station.
Automatic Thermostat Control
While you're away, especially in the winter, managing your home temperature is all about balance. If your home gets too cold, pipes can burst. But, on the other hand, if you keep your home too warm, you may come home to an extremely high utility bill. Smart home thermostats can be programmed to automatically adjust temperatures throughout the day while you're away. Remote access from your mobile device also allows you to make manual changes at a moment's notice.
Home Automation Systems in Toronto
Implementing a comprehensive home automation system in Toronto can save you money and maximize convenience. So whether you're out of town on holiday or just away at work, you can have the peace of mind to live stress-free. Engineered Alarm Solution is a leading home automation and security system supplier in Toronto. Our team of experts is here to help you choose the best technology for your property.