Common Uses for Home Automation Systems
Originally posted on 26 October 2022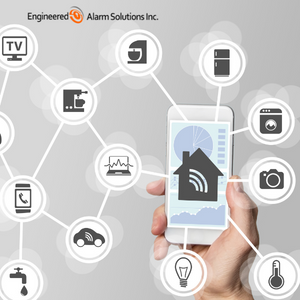 Many homeowners opt for average security systems in Toronto, mainly consisting of alarm monitoring and residential security cameras. These features are a starting point, offering some visibility and control over the security of your property, but they still leave vulnerabilities and weaknesses in terms of accessibility and convenience. Technological advancements have allowed home automation systems that can be seamlessly integrated with your security systems in Toronto for maximum protection.
Here's what you need to know about choosing home automation systems for your property.
DIY vs Sophisticated Home Automation Systems
Now more than ever, there are many options available for home automation in Toronto, all of which fall into a few general categories.
The first category is DIY. Often bought in-store or online, these systems offer simple installation and low costs. Unfortunately, their dependence on Wi-Fi signals makes them easy to hack and unreliable. The more smart devices you install around your home, the more they strain and slow your internet connection leaving you without the complete control you desire.
The second, more reliable home automation system is connected to a monitored alarm system. While they can be integrated with your security system in Toronto, these home automation systems do not rely on Wi-Fi networks, enhancing reliability and functionality.
More advanced home automation programs are available such as CONTROL4, and Crestron, but these systems are often regarded as too complicated, convoluted, and very expensive.
Independent of the security system you choose, you can select from flood detection, automatic lighting control, and more. The team at Engineered Alarm Solutions will help you upgrade to a home automation system that makes sense for you and your family.
Here are 5 common uses of home automation systems in residential properties.
Security
Locking your doors and engaging your security system in the evenings or when you leave for the day creates a sense of security, by protecting your property and the people you love. To ensure your home is engaged even when you're away, home automation allows for smart locks to be triggered based on your custom schedule, securing main entry points such as your front door and garage doors. Advanced smart home automation allows you to automatically activate your alarm system, seamlessly switching from stay mode to away mode to enhance convenience and protection.
Video Doorbell
With a video doorbell you can also communicate with anyone at your door e.g., courier, repairman or family member regardless of if you are home or not. With a properly installed smart lock you can also decide if you want to allow that individual to gain access to your home or not with the ability to lock or unlock your door remotely. This is a convenience for families with children who come home after school.
Flood Detection
When you're out for the day, at work, or on vacation an unexpected water damage emergency can surprise you. Intense weather, plumbing failures, or leaking appliances can trigger flooding in your home, even when you least expect it.
When water damage occurs, time is of the essence. The longer it takes to reach your home, the worse the flooding can be which will lead to extensive damage. Flood detection systems not only quickly detect water and alert homeowners of trouble at home, but automated flood detection systems also send notifications to home monitoring systems and automatically shut off the main water valve, stopping water flow into your home. This system helps limit damage to your property and belongings, saving you time, money, and stress in the long run.
Curtain & Lighting Control
Turning lights on or closing and opening curtains is a common crime deterrence strategy when you're away from home for an extended period. The movement of curtains and flicker of the lights trick burglars into thinking that someone is home, prompting them to think twice about attempting a break in. While both functions, curtain, and light automation, can be controlled remotely from your phone, you can enhance convenience by setting them on a schedule to turn on or off automatically at the time of your choosing.
In addition to deterring crime, curtain or shade automation can be used to expose criminals during a break-in attempt. By integrating your home automation system with your security system in Toronto, you can set your curtains to automatically open when your alarm is triggered, revealing the person or people responsible to anyone around the property.
Thermostat Control
In Toronto, the weather goes from one extreme to the next throughout the year. During hot months or the winter season, significant energy usage is required to keep control of your home's climate. Without automated thermostat control, air conditioning units and furnaces work hard during the day, even when no one is home, so you can return to a comfortable environment.
Home automation systems for your thermostat allow you to control when you're heating or cooling systems are activated during the day, saving hundreds of dollars on utility bills throughout the year. You can set your thermostat on a timed schedule, enabling it to turn on automatically in time for your arrival.
For greater automation, home automation systems equipped with geofence technology can be programmed to trigger your thermostat, turning on your heating or cooling system, once you reach a certain distance from your home. So, no matter how much traffic you're dealing with or how far away you are, your thermostat will be on at the perfect time.
Home Entertainment Systems
While soundbars, TVs, phones, and entertainment-related applications are all connected, home automation allows them to be used together more seamlessly, increasing convenience, and simplifying control at home. Connecting your entertainment devices to home automation systems will enable you to link audio-visual systems to easily play on any screen in your home. You can even play your favorite songs, podcasts, or audiobooks throughout your home.
Home automation takes control of entertainment systems to the next level, allowing you to control your family's screen time by shutting off devices after a specific time. You can also embrace quiet hours during the morning or night by automatically turning down the volume on smart devices at home.
Home Automation Systems & Engineered Alarm Solutions
Engineered Alarm Solutions Inc. is one of the most trusted home automation and security systems providers in Toronto. Our selection of sophisticated technology and customized solutions offer robust and reliable options that property owners like you can leverage to enhance protection and convenience.
Find your perfect home security system in Toronto.