Why Small Businesses Should Invest in Commercial Security Systems
Originally posted on 28 July 2023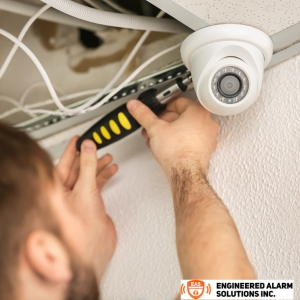 Small businesses are built from hard work and dedication. Every piece of property and member of the small team plays a significant role in its operation, growth, and success and, as such, should be protected. Unfortunately, businesses are often a target for nefarious activities, especially when burglars and criminals feel as though no one or nothing is watching. Robust commercial security systems in Toronto are an effective way to protect your business from threats so you can operate at high-level with the peace of mind you deserve. At Engineered Alarm Solutions, our team of security experts will help you tailor your security systems, from commercial alarm systems to security camera installations in Toronto.
Read on to learn why your small business would benefit from commercial security camera installation and the Engineered Alarm Solutions team.
Facilitate the Monitoring of Your Property
The key to safeguarding your business from burglary and unwanted intruders is professionalism, and the best way to go about that is with a comprehensive and professional commercial security system in Toronto. With Engineered Alarm Solutions, a tailored security setup including alarm systems and sophisticated security cameras in Toronto enables easy detection of physical property breaches and unauthorized access. When your cameras and alarms are watched 24/7 by our reliable monitoring station, you can count on prompt responses to signals and alarms on your property, catching criminal behaviour before it can go too far.
Protect Sensitive Data and Operations
Access control systems are a leading option for businesses in the Greater Toronto Area, especially those that operate in mix-use properties. The advanced technology elevates security in commercial buildings allowing businesses to go beyond simply locking doors. Instead, access control systems are preprogrammed to enable access to restricted areas and rooms only to authorized personnel. The ease of customization allows small business owners to grant specific access privileges to different employees, streamlining operations and safeguarding confidential data. With real-time monitoring and the ability to track access history, these systems offer peace of mind, as any suspicious activities can be swiftly addressed. Cost-effective, secure, and seamlessly integrated with other security measures, access control systems provide small businesses with the protection they need to thrive and prosper in today's competitive landscape.
Save Time & Reduce Costs Building Automation
Small businesses can also benefit from integrating building automation systems with their commercial security systems in Toronto. Automation systems include prescheduled lighting, thermostat, deadlock, and alarm controls. By automating vital building infrastructure to line up with predetermined schedules or timers, team members can go about their days without worrying about manual actions upon opening or closing up for the day. Automatic adherence to schedules ensures that these essential but seemingly minor tasks are always completed on schedule, minimizing waste or unnecessary expenditure on utilities. Talk to the specialists at Engineered Alarm Solutions to learn more about which building automation systems your office or other commercial property would benefit from.
Top Commercial Security System Features for Small Businesses
By partnering with reputable security system providers in Toronto, you gain access to cutting-edge technology and tailored solutions that suit your specific business needs. From alarm systems and access control to surveillance cameras and advanced monitoring software, these installations offer comprehensive protection against the evolving landscape of security threats. Our security cameras in Toronto provide premium features like night vision, artificial intelligence, geo-fence technology, and more. Our commercial alarm systems in Toronto range from fire alarm systems, glass break detection and forced entry alarms to motion sensors for the inside of your property and its immediate vicinity. With connected monitoring apps and stations, you can be confident that your property, fleet/business vehicles, employees, and visitors are well protected with a leading commercial security system and the Engineered Alarm Solutions team.
To work with a specialist and hand-pick the best security elements for your properties, contact Engineered Alarm Solutions directly.