Do Security Cameras in Toronto Deter Crime?
Originally posted on 19 July 2022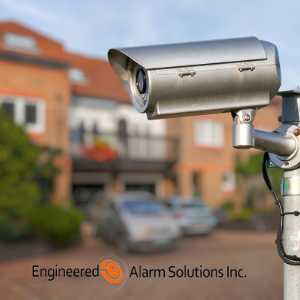 Primarily, security cameras in Toronto are installed as a way to solve a crime by streamlining investigations and quickly identifying the culprits. While this is a crucial benefit to residential and commercial security cameras in Toronto, what's even more important is creating the peace of mind that your property is safe, which starts with prevention.
Studies have shown that installing a security system can deter crime in Toronto by at least 50%. We can help you find the perfect security system in Toronto for your property and your unique concerns for maximum protection at Engineered Alarm Solutions.
Here's what you need to know about deterring crime with security systems in Toronto.
Security Camera Visibility
When bullet and dome cameras can be spotted by criminals, they create a feeling of doubt and uncertainty. Installing security cameras in Toronto around doorways and entry points to ensure that they are noticed as criminals try to break into a property or when the case the property prior to a home invasion.
Monitoring Signs & Labels
If the cameras are not visible enough, signs on doors, lawns, and windows at eye level indicate that you have secure home monitoring to sway criminals. Cameras alone are not enough for effective crime deterrence and security. The experts at Engineered Alarm Solutions also highly recommend a monitored security system in Toronto along with smoke and fire monitoring. The knowledge that there could be someone with their eyes on the criminal in real-time can reduce the opportunity and comfort criminals feel.
Home Automation Systems
The outside world doesn't have to know when you're not home. In addition to security cameras in Toronto, home automation systems give the illusion to the outside world that someone is home even when they aren't home. Lights are active indicators to passersby and burglars that communicate whether someone is home or not. Since criminals are more likely to break into a property when it's vacant, automatic lights indoors and sensors will trick criminals into thinking there are, in fact, people home. Be sure your home also has an alarm system, so if an entryway is breached, sirens will scare the perpetrator into fleeing before they enter your property.
Act on Suspicions
You can get ahead of criminal activity by picking up on strange patterns and the footage to back it up. If you've noticed someone lurking around your home or behaving suspiciously, make a note of it and talk to your local law enforcement. Recording and storing footage from your security cameras in Toronto enables you to better identify the perpetrator and stop crime and burglaries before they even happen.
Security Cameras & Systems in Toronto
For comprehensive home monitoring and security, install a complete security system in Toronto with Engineered Alarm Solutions. We are a trusted provider of commercial and residential security cameras and property monitoring systems across the GTA. From security cameras to alarm systems, we can help you install a custom security system tailored to your property and concerns.
Get the peace of mind you deserve with Engineered Alarm Solutions.