Factors that Affect Your Security Camera Images
Originally posted on 20 October 2023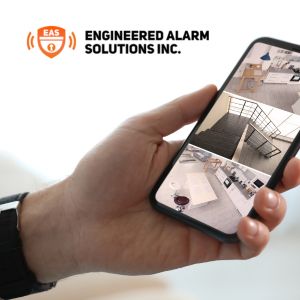 The clarity of the images your commercial security cameras produce directly influences how effective and helpful these features are. The security camera is a vital part of any commercial security system. In fact, many people and businesses rely solely on cameras for their security needs. With advanced camera technology, your commercial security cameras in Toronto can provide many insights and features that offer you the protection, visibility, and peace of mind you need to successfully manage your business. However, some factors can interfere with the clarity of the videos and images your cameras produce. At Engineered Alarm Solutions Inc., our team of engineers and security specialists are here to help you choose the best products for your budget and system needs, putting together a custom security system that performs.
For more insight into the various factors that can affect your camera images, read on.
Backlight
Like when you're taking a picture in front of a bright light or well-lit window, bright lights behind the subject of an image can cause distortion and darkness. This can be true for some security cameras in Toronto, which can pose a problem during the daytime when the sun shines brightly without obstruction. To counteract this distortion from unavoidable light sources, many of the cameras we offer at Engineered Alarm Solutions Inc. are equipped with WDR (wide dynamic range) technology designed to mitigate light exposure problems. As a result, the people and objects appear more clear and identifiable even in heavy-lit areas.
Darkness
On the other hand, extreme darkness creates a challenge for commercial security cameras, which are recording in dark rooms or at night. The lack of contrast or light makes perceiving objects and people incredibly difficult. To compensate for the lack of light, you opt for security cameras in Toronto with night-vision features enabled by either infrared illumination or thermal imaging. Security cameras with night vision capabilities allow you and your monitoring station to view low-light areas and identify suspicious behaviour at night.
Weather
Commercial security cameras in Toronto are often installed outdoors to monitor entry and suspicious activity before a subject enters a property. Outdoor cameras are also helpful for protecting fleets and business vehicles while identifying suspects' cars and license plates. Unfortunately, in some cases, the weather, like rain, ice, and snow, can distort the images produced by outdoor security cameras. To ensure you have optimal outdoor visibility regardless of the weather conditions, consult with the experts at Engineered Alarm Solutions Inc. We offer high-quality outdoor surveillance cameras designed to withstand the elements and provide reliable video footage.
Security Camera Resolution
One of the most direct factors that influence the clarity of your security camera's images is the resolution of the camera itself. The more clear the resolution or the more pixels it captures, the better quality your images will be. Higher resolution means more details in your security camera footage. The ideal resolution for your commercial security camera will depend on the range you intend on covering with your cameras.
Choose the Best Security Cameras with the Experts
With decades of experience, trust the specialists at Engineered Alarm Solutions Inc. for guided insight into the best commercial security cameras for your security system in Toronto. With a wide range of products, we can help you get the best coverage for your needs.