Commercial Security Systems: Why Your Small Business Needs One
Originally posted on 04 June 2021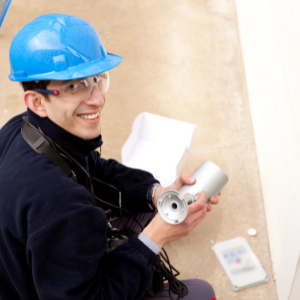 For any small business owner, the company or business is the manifestation of their dreams and ideas. With their sweat, work, and money invested in the business, it is vital to protect it from threats. However, shoplifting incidents, thefts, fires, data breaches, and other safety concerns are almost impossible to predict. Businesses already have enough on their plates, and the lack of a reliable retail security system can add to the stress.
This is why more and more small business owners are turning to customized business security systems for their security needs.
How Commercial Security Systems Can Protect Your Small Business
Modern business security systems like commercial security cameras, advanced intrusion detection, and alarm systems can deter potential theft, shoplifting, break-ins, and other security issues. Losses due to the theft of expensive electronics, data, and inventory can be crippling for a small business establishment. With these avant-garde commercial security systems from Engineered Alarms in place, you can significantly reduce your business risk.
Theft Control
Not only do security systems reduce incidents of burglary and shoplifting, but they also provide a means to detect in-house theft and shoplifting incidents. Video recordings can help identify the culprits and prosecute them.
Peace of Mind
Security cameras, intruder detection systems & fire alarms enhance your business' security. They provide peace of mind to both owners and customers by providing a safe business environment. With commercial security systems in place, business owners can freely focus on their core business interests.
Connected Technology
As we adjust to the new normal in these pandemic times, security systems are needed more than ever before. Connected security systems can help owners monitor their businesses remotely, thus offering them the ease of working from home without compromising security and other issues.
Instant Response
Automated security systems and intruder alarms send instant alerts when their motion sensors are activated. This allows you to be alerted immediately, and you can take corrective action to protect your business.
Insurance Benefits
Most insurance companies will reduce your business insurance premium if you have a commercial security system in place. The lower risk potential acts as an advantage, and you can enjoy lower insurance costs along with greater security!
Workplace Safety
CCTV cameras can help curb incidents of workplace violence and sexual harassment. The employees and owners have the reassurance of digital evidence in case of such untoward incidents happening on the premises. Security surveillance also ensures protection against lawsuits as security camera footage can be used as evidence in false accusations and fraudulent cases.
Improved Employee Productivity
With CCTV cameras & smart security systems in place, there can be better time management and increased productivity at the workplace. Remote monitoring of work provides flexibility to the business owners and increases employee productivity.
Make a Smart Choice with Commercial Security Systems From Engineered Alarms
Give your small business the protection it deserves with commercial security systems from the front runners in the security business. Engineered Alarms Inc. offers cutting-edge security solutions at affordable prices, customized for your business and home. Secure your small business, factory, warehouse, office, or residential building with state-of-the-art surveillance cameras, intruder detection systems, and more! Whether you're looking to update your surveillance system or install a new one, the security specialists at Engineered Alarm have you covered! Contact us for all your commercial and home security needs today!