Benefits of an Intercom for Your Security System in Toronto
Originally posted on 17 February 2023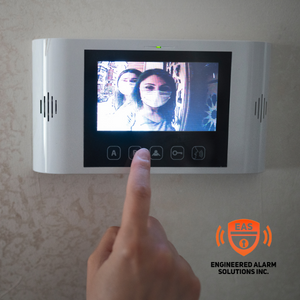 Intercoms are a popular addition to security systems in Toronto. Featuring home security cameras and microphones, intercom systems allow people throughout a home to communicate and monitor activity in other areas of the property. Intercoms can be customized to suit your property needs. To learn more about maximizing the functionality of your intercom system and security camera installation, reach out to the professionals at Engineered Alarm Solutions.
The Problem with Out-of-the-Box Solutions
Out-of-the-box intercom security systems often consist of a single doorbell camera that is not integrated with the rest of your home security cameras and security system. Because they rely on WiFi connections, they can use up a significant amount of bandwidth, slowing your internet connection and delaying your access to live feeds and updates from the viewing station, whether it's a wall hook-up or from your mobile device. Despite seemingly simple intercom and security camera installation, these systems may be more vulnerable to tampering and hacking. Whereas more sophisticated intercom systems offer improved security and more customization options.
Benefits of Sophisticated Intercom Security Systems in Toronto
From integration and security to flexible installation and remote access, intercom systems offer many benefits to homeowners looking to enable ease, convenience, and accessibility at home.
Flexible Functionality: One of the primary functions of an intercom system is to allow you to communicate with someone who approaches your building or property, even if they are at a different level or floor. For example, if someone rings your doorbell, you can use the intercom system to speak to them and see them on a video screen before deciding whether or not to allow them in. This can be especially useful for potential screening visitors, such as delivery people or service providers, to ensure they are legitimate. In addition to allowing you to communicate with people at the doorbell, intercom systems can also be used to communicate with people in different areas of your property, such as between different floors or rooms. This can be useful for homes with multiple levels, making communication with family members or other occupants much easier and more efficient.
Remote Access & Cell Phone Notifications: Even when you're not at home, advanced security systems, such as the Aiphone IP Intercom system, allow you to receive notifications that someone is at your door directly from your mobile device, so long as you have an internet connection. These intercoms give you mobile control through an app, so you can always see and speak with people regardless of if you're at home or on the go, increasing visibility of your property and your family, enabling peace of mind. By allowing you to monitor and control your system from anywhere, these features make it easier to keep your property secure and ensure that only authorized individuals are allowed in.
To learn more about intercom systems for your property and to explore your security camera installation, talk to the expert at Engineered Alarm Solutions.