Benefit of Hiring with a Commercial Security Company vs. a Telecom Company
Originally posted on 04 August 2021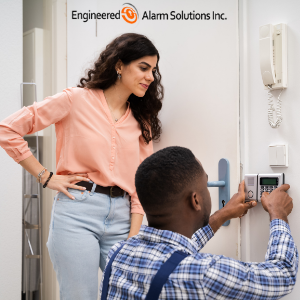 There are many reasons why you should consider dealing with a commercial security company versus dealing with a Telecom company like Bell or Rogers. Telecom companies are driven by sales and marketing, where security companies are driven by providing solutions and services. Many telecom companies have a limited selection of pre-packed security systems to choose from. They hide additional charges in fine print and lock you into long-term contracts.
For commercial Security companies like Engineered Alarms, our primary focus is customized security systems. We offer some of the best commercial security systems in the industry. We get exclusive access to the latest commercial security cameras and equipment. We value our customers, and this is the reason we provide them with the best service possible.
The Difference In A Security Company Installing Your Security System
You probably wouldn't have two companies install your home theatre, as most likely both could do the job well. Designing and installing a security system requires specialized knowledge, years of experience and thousands of previous designs and installations to guide the work.
Telecoms offer services for technology products like iPhones, iPads, etc.; residential alarm systems would only be their smallest business section. Whereas Security companies, security systems are their core products. This likely means that a company exclusively catering towards offering solutions for fire & intrusions will have more training experience than any single area at a phone company.
Why Choose A Company Like Engineered Alarms
For one, you get a single point of contact. With us, you get to reach out to one company that will take care of all your security needs. Whether it is a simple monitored alarm system or a fully integrated security solution, you will be able to call us, and we will set up the best solution for you.
Unlike your phone company, we don't do price hikes! You always get the best price from us. Our customers are locked into our offers for life!
No term contract – Unlike telecom companies, we do not have any term contracts and promise to never lock you into long-term agreements. Once you decide on one of our products and services, we will continue to provide support for as long as you desire. You can terminate at any time.
We are experts in our field and have the experience to support you on an ongoing basis. Our expertise goes beyond engineering to include full-service management of your security systems as part of our Total Security Solutions (TSS).
We receive exclusive discounts on equipment prices thanks to our partnerships. Which we pass on to our customers!
Commercial Security Companies Go The Extra Mile
Telecom companies are in the business of 'doing the least to get your business and sometimes that's just not enough, while a security company is in the business of doing the most to keep you safe. Where security is only a small product line for telecom companies, for commercial security companies, security is our core product.
We stay up to date up with enhanced intrusion prevention techniques. We discover the latest in helpful technologies like video surveillance cameras etc. .and we can offer of all types of alarms including burglar, fire alarm system installation etc.
Our job is to ensure that you are safe from theft, fire, terrorism, medical emergencies, etc. We need to ensure that if you call for help, it will come quickly. We need to offer you peace of mind and a home automation system catered to your specific needs. We want you to feel safe when you are away from home, too; that's why we offer remote access via desktop and mobile apps.
Dealing with Telecom Companies
Many businesses and homeowners are likely to assume that it makes more sense to stay with their current telecommunications/internet service provider (i.e. Bell, Rogers, Telus) or cable provider (i.e. Rogers, Shaw, Cogeco) to install their security system. After all, you're already dealing with them, so why not continue the partnership.
Dealing with a telecom company can be frustrating because you'll think you have enough control over your security systems. However, when something goes wrong (and it will), you'll have to deal with rotating support personnel that are not adequately trained on the systems.
In contrast, dealing with Engineered Alarm Solutions will give you the benefit of a customized design (as opposed to being a package), a professional and detail-oriented installation (as opposed to stapling wires on the baseboards), certified monitoring stations and superior customer service.
Get in touch with our knowledgeable consultants at Engineered Alarms today to discuss the customizable security system solutions we can provide.