Signs Burglars are Casing Your Property
Originally posted on 28 April 2023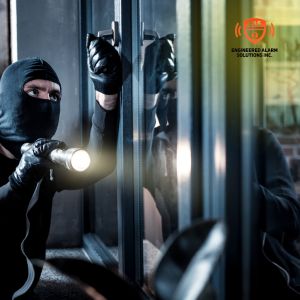 With crime in the Greater Toronto Area rising, it's not uncommon for property owners to fear that their home or business is next. In most cases, break-ins are not random. Modern criminals have curated a sophisticated approach where they case properties and mark them before proceeding to break in. The fear of your property or car being next is entirely reasonable, but it doesn't have to be debilitating. With these tips, home security cameras, alarms, and home automation systems from the knowledgeable team at Engineered Alarm Solutions, you can protect your property from break-ins and understand your risk of being burglarized.
Read on to recognize the signs that your property is being cased and learn how to prevent break-ins with home security systems in Toronto from Engineered Alarm Solutions.
Signs Your Property is Being Cased
The first indicator that your property is being cased is the presence of suspicious individuals who you don't recognize or whose behaviour doesn't seem normal. Look for strange vehicles, parked cars, or people loitering in the area who engage in repetitive actions and leave markings on walls, gates, or fences. A graffiti symbol, a small dot of paint, or a piece of string tied to your fence. Old rusty alarm boxes. Self-installed security cameras. Broken exterior lighting. All are signs that you do not take-home security seriously and, therefore, your home is an easy target. Seasoned burglars can quickly identify which home security systems are nothing more than outdated and nonfunctional.These markings are a sign that a break-in may be imminent. When determining whether your property is being cased or monitored by criminals, you'll often notice a couple of signs in combination to confirm your suspicions. If you detect suspicious activity, the best course of action is to notify the local authorities and enhance your security system.
Burglar code
Codes, symbols, and markings have become widely used tactics by burglars to help them break into homes.
Barred circle: a house to avoid breaking into as the home has effective alarm, security cameras or a family dog.
Circle: an easy house to target; maybe as it has no home security system set up.
Triangle: a single woman in the house; thieves may target women or the elderly as they're seen as more vulnerable targets. This is one of the reasons why home invasions are on the rise.
Ladder-like lines: valuables visible in the home; there are items in the house that are worth stealing.
Cross: occupant who will respond to door to door sales people; be aware of persistent canvassers, as they may not be who they say they are!
Two barred waves: a man who will respond to women; burglars who do their research are likely to use a homeowner's weak points to gain information and access.
Letter code: M for empty in the morning, N for empty at night – the symbols could be as simple as that, as burglars are likely to take note of your movements in and out of the home.
Who Do Burglars Target?
While it's possible that a break-in attempt on your property or a stolen car could be entirely random, more and more criminals are thoughtful about their targets, casing properties over a couple of days or weeks to ensure they have the best chance of success. Typically high-value properties with weak security systems are an ideal target, allowing burglars to break in without detection. To minimize the appeal of your property to burglars, go beyond simple home security cameras and install an advanced security system equipped with alarm monitoring and home automation systems.
How to Protect Your Home Against Break-Ins?
Since one of the main factors influencing whether your property will be marked is the condition and effectiveness of your existing security system, it's essential to ensure that you invest in a robust security system. First and foremost, it's important to install advanced home security cameras, preferably with high-quality image resolution and night vision. You can also keep burglars at bay with home automation systems programmed to activate various elements in your home, including curtains and lighting, to trick criminals into thinking that someone is home even when you're on vacation or out for work. It also helps to protect all entry points into your home with comprehensive alarm systems, including glass break detectors and motion detectors on your first floor.
Upgrade Your Home Security with Engineered Alarm Solutions
To learn more about how you can fend off potential intruders with a robust home security system in Toronto, contact Engineered Alarm Solutions. We offer modern security solutions that work together to protect your property and give you the peace of mind you deserve. In addition to sophisticated equipment and high-quality installation services, we also have a 24/7 monitoring station which allows us to watch your property and respond to alarms on your property in real-time.