Keep Your Home Safe And Secure This March Break
Originally posted on 09 March 2022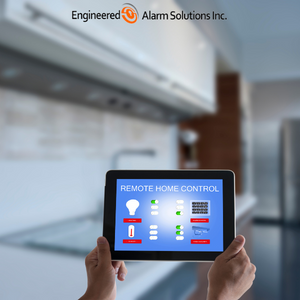 If you are going away this March break, it's prudent to think about home security.
Thankfully, there are a lot of ways you can secure your home. From installing security cameras in Toronto to setting up a monitored home fire alarm system, Engineered Alarm Solutions security technicians break down ways to protect your home while you're away.
Install Security Cameras In Toronto
A few strategically placed home security cameras in Toronto and around Toronto homes can be a deterrent to potential break-ins. Modern security cameras in Toronto can be integrated with a mobile app to send real-time alerts in case of any unauthorized movement or break-in. You can literally transform your smartphone into a remote surveillance camera with live video streaming of your home. Taking this proactive measure will help you breathe easy while you're off on your break.
Set Up a Monitored Burglar/Fire/Flood/CO Alarm System
Appoint a 24-hour guardian for your home with a monitored alarm system. You can use a combination of a burglar, home fire alarm system, or other environmental alarms to secure your home from break-ins, fire, or water damage. These alarm systems will immediately notify you and the security company when triggered. You or the monitoring company can remotely assess the threat and take appropriate action.
Use Home Automation to Make it Look Like Someone is Home
Install home automation for smart lighting that automatically switches the lights on/off at preprogrammed timings. This will make it look as if people are at home and avoid giving the impression of a vacant house. We recommend opting for smart lights, door locks, video intercom, and security cameras in Toronto that can be controlled remotely via an app. You can view your home from anywhere through your smartphone, laptop, or tablet and get immediate notifications about any suspicious activity.
Refrain from Posting on Social Media
It is best to keep your upcoming vacation plans off-line to keep your family and home safe. Resist posting pictures or status updates of your holiday on social media until you return. You never know who's seeing them and realizing there's no one at home. Do not put 'away for holiday' messages on your email and voicemail; it is best to stick to your usual messages.
Ask a Friend or Neighbour to Check-in
Have a friend or neighbour stop by to check on your home while you're on holiday. You can also request them to park outside your home. Provide them with your vacation contact and itinerary for worst-case scenarios.
Hire Someone to Remove the Snow
A snow-covered driveway or an unshovelled sidewalk literally screams "nobody's home"! If you live in a snow-prone area, make sure to hire someone trustworthy to shovel the driveway and sidewalk before you leave for your vacation.
You can't enjoy that much-awaited spring break if you're stressing about home security. Follow the above tips and leave your security worries behind when you holiday!
Engineered Alarm Solutions Inc: The Final Word in Security Systems
Don't let your home become another crime statistic! When it comes to the safety and security of your family and home, you can never be too safe. Enjoy complete peace of mind with the protection of comprehensive security systems from Engineered Alarm Solutions Inc. Connect with our security experts for the best-in-class home security systems and security cameras in Toronto today!