Is a Local Alarm Enough to Monitor Your Property
Originally posted on 31 March 2023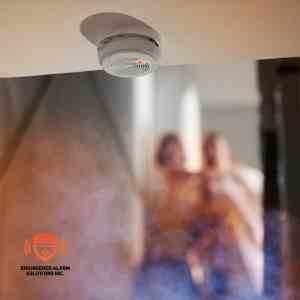 Alarm systems have been a fundamental element of residential and commercial security systems in Toronto. As technology has evolved, how property owners have leveraged these tools has changed too. When maximized, alarm systems provide various benefits, including rapid fire, gas leak, and break-in detection, ultimately minimizing financial loss and saving lives. The peace of mind and value provided by an advanced alarm system and security system in Toronto is unmatched. Still, for the system to function optimally and deliver the promised benefits, leading security professionals at Engineered Alarm Solutions Inc. strongly recommend opting for externally monitored alarm systems.
Why Were Local Alarms Used?
Alarm systems in Toronto set up to go off locally only alert individuals in the immediate vicinity of commercial or residential properties of a security threat such as fire, smoke, break-ins, or even gas leaks. The sounding of local alarms would notify anyone inside the building or nearby, like next-door neighbours, without contacting monitoring stations, security, or the police. Before criminals got smarter and updated their approach, local alarms in Toronto were used mainly as a deterrent to scare thieves and burglars into thinking that local authorities were on their way and that onlookers would notice them. The goal was to send criminals packing before they followed through with their nefarious plans. Still, in many cases, local alarms do not offer comprehensive protection and surveillance compared to sophisticated alarm security systems in Toronto.
Are Local Alarm Systems in Toronto Beneficial?
While the deterrent effect of local alarm systems in Toronto may still be able to send a novice criminal running, burglars have become more innovative and strategic. More often than not, criminals will intentionally trigger alarms and wait stealthily outside to see if an authority does arrive. If security system installation appears to be local rather than communicating with the police or monitoring station, they will proceed with breaching the property.
Beyond break-ins, local alarms prove to be ineffective when it comes to fire and smoke detection. In fact, many studies show that in many house fires, smoke detectors were set up locally, which can put residents at risk. When everyone is asleep or out, it's critical that fire alarms not only sound locally, but also notify monitoring stations that can immediately dispatch firefighters and ambulances. Monitored alarms ensure the protection of your property, even if you are away or unable to respond independently.
Benefits of Monitored Security Systems
Leading security professionals like Engineered Alarm Solutions Inc recommend monitored security systems for a number of reasons. Our monitoring station will respond to signals sent from your home or commercial security system in Toronto promptly, 24/7. Round-the-clock monitoring ensures that someone reliable is always available to address your property's security needs, even when you're away, responding appropriately, dispatching the police and firefighters, or even communicating with burglars directly. Alarm monitoring has proven to go beyond just deterring crime. It also helps property owners minimize damage, preserve valuables, and protect loved ones.
Upgrade Your Security System in Toronto
From advanced fire alarm systems, motion detectors, and glass break sensors to sophisticated security cameras and mobile apps, Engineered Alarm Solutions Inc will help you maximize your peace of mind and protection with advanced security systems in Toronto customized to your concerns and the needs of your property.