What Are the 4 Main Elements of Commercial Security Systems?
Originally posted on 27 June 2023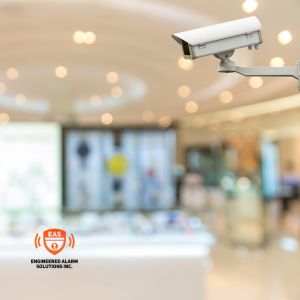 When you run a business, it's critical to protect your valuable assets and safeguard both your employees and customers with commercial security systems. While security camera installation is a good first step in protecting your operation, a comprehensive commercial security system in Toronto consists of multiple elements that enable a robust security infrastructure, including commercial security cameras, alarm systems, intercoms, and access control systems. Together, these four form a foundation that enhances security measures and ensures a safe environment for stakeholders.
Learn how to maximize your commercial security system in Toronto with guidance from the specialists at Engineered Alarm Solutions.
Commercial Security Cameras Toronto
Commercial security cameras in Toronto play a critical role in a comprehensive security system in Toronto by providing live and past visibility of activity on and around your property.
Some ideal features of these cameras include:
Night vision: Enables surveillance and monitoring in low-light or dark environments. This provides continuous protection around the clock, especially after dusk when break-ins and other criminal behaviour are more likely.
Smart motion detection: Alerts business owners or security personnel when motion is detected, helping to prevent unauthorized access or suspicious activities.
Pan/Tilt/Zoom (PTZ): Allows the camera to move horizontally (pan), vertically (tilt), and zoom in or out on command. This feature provides flexibility in monitoring specific areas and capturing detailed footage.
Commercial Alarm Systems
Commercial alarm systems are vital to a robust security setup, offering comprehensive protection for businesses on and off the clock. These systems encompass various essential components, including door/window sensors that identify unauthorized entry attempts through doors or windows. Additionally, motion detectors trigger alarms upon detecting movement in designated areas or after hours. To further fortify security measures, commercial alarm systems employ glass break sensors that swiftly respond to the distinct sound or vibrations caused by glass shattering, which can identify suspicious entry from other access points beyond the front door.
Alarm systems also protect the property from other incidents beyond break-ins, like flood and fire sensors, that alert property owners and authorities to signs of water leaks or fire hazards. By promptly detecting such risks, they facilitate early intervention and timely responses, mitigating potential damage and ensuring the safety of employees, customers, and valuable assets.
Access Control Systems
An access control system is used in commercial security systems to manage entry into buildings or specific rooms within a facility. It allows authorized individuals to gain access while keeping unauthorized individuals out. This system protects sensitive data and valuable assets and restricts entry to restricted areas, enhancing overall security and reducing the risk of unauthorized access.
Intercom Systems
Intercom systems are particularly useful for small businesses in Toronto. They allow businesses to grant access to welcome visitors, such as delivery personnel, through shipping and receiving doors. Additionally, intercoms enable remote communication, allowing business owners or employees to answer calls and grant access from a different location. This feature enhances convenience, efficiency, and security.
Learn how to upgrade your commercial security system in Toronto to protect your property, employees, and valuable on-site.